August 17, 2017
On August 8 every year, many people celebrate the Feast Day of Australia's first Saint, Mary MacKillop.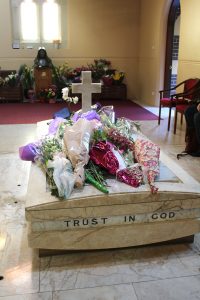 Many celebrations were held across Australia and overseas, with one location being Mary MacKillop Place (MMP) at North Sydney. MMP houses the Mary MacKillop Memorial Chapel which includes Mary MacKillop's tomb. Many pilgrims come and visit Mary MacKillop's tomb as this is a special and sacred place for reflection and prayer.
This year, I volunteered to take photos at MMP for Feast Day which began with Mass in the Chapel at 8am. It was great to see the Chapel full of people.
After Mass, I went for a walk and took some photos of the many stalls displaying their wares. The stalls included:
Ethica (ethical Peruvian goods)
Mary MacKillop and religious merchandise
Prayers and petitions
Books for sale from the Archives as well as some free materials
Food and drinks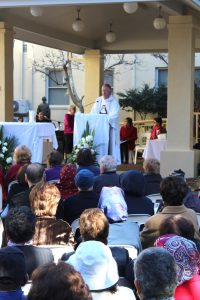 The grounds of MMP were full of vibrant people from different cultures and demographics. I could certainly feel the spirit of Mary MacKillop throughout the day, especially through the smiles of all the people.
The 10am Mass was held outside on the MMP grounds. The songs sung by the girls' choir from Mary MacKillop Catholic College, Wakeley echoed all throughout MMP, with everyone happily joining in. Bishop Terence Brady's homily about how humans are spiritual beings, the importance of taking a stance for what is right, seeing a need and having the determination and courage to attend to that need, tugged at the heartstrings of all those who were there. Mary MacKillop remains a true example of this, and is someone to aspire to when attending to the needs of others.
Do all you can to assist and love one another.

After the 10am Mass ended, I took a tour of the museum. During the tour, I learnt more about the story of Mary MacKillop, Julian Tenison Woods and the Sisters of Saint Joseph. A museum volunteer shared their fantastic knowledge about the story of Mary MacKillop with all those attending the tour. The volunteer's knowledge was great, as it enabled me to understand the context of the times Mary MacKillop lived in and the struggles she endured.
I took photos of everything happening at MMP. The sunny and glorious weather lasted all day, and the Feast Day was a delightful and enjoyable experience.
Mary B
Communication Administration Assistant, Sisters of Saint Joseph
View a photo gallery of the day below…