December 25, 2018
You are invited to read a Christmas message by Congregational Leader, Sr Monica Cavanagh…
Glory to God in the highest and peace to all on earth.
Today, throughout the world, we celebrate the birth of the Child of Peace, Jesus who comes among us as the Prince of Peace. He comes showing that violence, hatred and war are not the answer to restoring peace. Our world more than ever is called to live the words of Isaiah:
 They shall beat their swords into ploughshares, and their spears into pruning hooks; nation shall not lift up sword against nation, neither shall they learn war anymore.
Jesus shows through his life and actions that love, humility and gentleness are the way to peace.
On this Christmas day each one of us has a role to play in being peace-makers. Cornelius Plantinga offers a deeper reflection on the Biblical meaning of peace:
Shalom means universal flourishing, wholeness and delight – a rich state of affairs in which natural needs are satisfied and natural gifts fruitfully employed, a state of affairs that inspires joyful wonder as its Creator and Savior opens doors and welcomes the creatures in whom he delights. Shalom, in other words, is the way things ought to be.
Jesus invites us to be instruments of peace, to be people who live from that place of inner peace. In the calm of that first Christmas night our God comes among us as the Prince of Peace.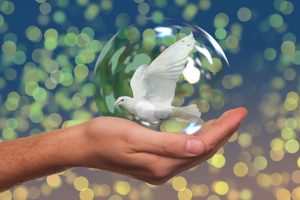 On this Christmas day may your hearts and homes be filled with inner peace. As you go through the activities of this day – let the peace of Christ fill you and may this peace spill out from you to all those with whom you share this day. May the peace with which you are blessed flow freely into our world especially to those places where the hearts of people yearn for peace as they continue to live amidst the reality of war and violence.
Peace and joy to all on this Christmas day.
Sr Monica Cavanagh
Congregational Leader
Image peace dove harmony obtained from Pixabay. Used with permission.