June 8, 2019
It is over twelve months since I left North Sydney, New South Wales and started my ministry in the St Mary of the Cross MacKillop – Northern Light Parish in South Australia.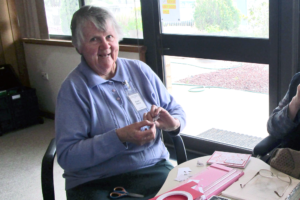 The parish spans from Nuriootpa to Port Wakefield. I live at Hamley Bridge which is very central and anything from thirty to forty kilometres from home. We have eight Mass centres and have Mass twice a month and Liturgy of the Word with communion on the other Sundays. The lay people lead these sessions.
I do visiting in the different towns. On a Tuesday I go to the Hospital – Nursing Home here at Hamley. Here I participate in the activities: craft, cooking, sing-alongs, scrapbooking and card making. The cards are a great hit with the residents. We see the delight on their faces as they achieve something they can share with the nurses as they go back to their rooms. The best of these days is the interaction and laughs they receive from each other. Shrove Tuesday was a pancake making afternoon. "They were the best pancakes we have had." some of them said.
We have a Mass once a month and it is Ecumenical. I have had the privilege of leading these when Father Mark is away.
When I first went there they asked what to call me and I said  "Maria is fine." However someone said that Sr Maria sounds much nicer, so that is what I am.
I have been to a funeral of a resident with the staff. I was also invited on a bus trip to Tanunda to hear and see the pipe organ they have restored.
I also join the Kapunda ladies for a lunch each month when they get together. They are a great group. I have also been invited to talk on Mary MacKillop at a family gathering. It is a great parish and I am very lucky to be part of it.
Maria Hennekam rsj