November 15, 2018
Mary Cresp rsj and Jan Tranter rsj write to draw our attention to the article, "Julian Tenison Woods: From Entangled Histories to History Shaper" published in the July issue of The Australasian Catholic Record. 
The paper was originally presented at the Australian Historical Association Conference, University of Newcastle.
---
"We saw Julian as a prime subject for the conference theme, Entangled Histories. His many travels and contacts well illustrated the fact that history is not bound by geography, religion or nationality, but grows through interconnections and movements at many levels. Indeed, Julian emerged through these influences to become a shaper of history.
As we drew much from the work of Anne Player rsj, we dedicated the paper to her and presented it on the first anniversary of her death. A year later, we are thrilled that the article is being published at the same time that her major work, "Julian Tenison Woods 1832- 1889: the Interaction of Science and Religion" is nearing the publication Anne so hoped for.  We hope you enjoy the following summary.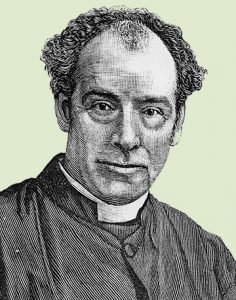 Julian Tenison Woods (1832 – 1889) was a product of richly entangled histories, mobilities and connections. From a family uniting the Irish Catholic /Protestant divide, growing up in London and widely educated, he met religious orders arriving in England after Catholic Emancipation. Encouraged by a scholarly mentor, he joined the Passionist Fathers of Italian origin, then the French Marists. Enthusiasms ignited in France had lasting influence. The volcanic landscape of central France whetted his appetite for and knowledge of geology and all natural sciences. A group of religious Sisters re-founded in post-revolutionary France gave him the idea of the Sisters of St Joseph, which he later founded in Australia with Mary MacKillop.
In 1854, he came to Tasmania as prison chaplain to convicts. Then, living with another religious order, the Austrian Jesuits in South Australia, he completed study for ordination. Aged 24, he was sent to Penola in the State's south-east as Parish Priest.
From here, his connections kept expanding with scientific work and writing and as religious founder and itinerant preacher. Fourteen years in South Australia, eleven in eastern Australia and three in Asia saw him interacting with different cultures in ever widening circles. The number of scientific colleagues grew, as did recognition of his scientific prowess. Men of standing recognised his worth. A prolific writer, he wrote learned papers for scientific societies and popular articles for the newspapers.
He moved through these entangled histories, making his own what he resonated with and leaving his imprint in Australian history and beyond." 
---
See Australasian Catholic Record, July 2018
Please note: to be able to read the whole journal article, you will need to purchase it.
Article originally published on the Sisters of St Joseph Lochinvar website. Used with permission.