August 11, 2010
10 September 1867 – Adelaide
J.M.J.
My dearest Mamma,
I hope my long letter has reached you ere this, and partly excused my long silence. Surely, no matter how much I may delay in answering your kind letters, you never will believe that I am forgetting you.
I was so sorry to hear of Mr Finn's failure which we did on Saturday and yesterday a letter came from the Commissioners of the Estate enclosing a bill of more than £27, and saying that it must be paid before the 1st of September, also that it had been sent in before in July. If so, I never received it nor had any idea that Mr Finn's affairs were in such a state. The last time he sent me his bill it amounted to the best of my belief to £25, some shillings, but as I destroyed it with some other papers I forget the exact amount. Since then, you told me that you paid £5 on account, which they had not noticed. There must be some mistake. If you can see Mr Finn, will you please, dear Mamma, speak to him about it. Besides, Father Woods had written to Mr Finn about some money which he wished him to place to our credit, and that has not been done. I think you told me at Penola that Mrs Finn had mentioned the same to you. God's holy will be done, but it is sad, and I am grieved to think that my want of prudence in the past is the cause of so much uneasiness to those I would wish to save from pain or sorrow.
I don't know how Father Woods is to pay this now, still he says it must be done. Do not be uneasy or unhappy and don't think I am. God wills it all. He wills that I should have the pain of seeing others suffer for my imprudence, and all I desire is to suffer what He pleases and learn how to serve Him best on earth. Father Woods does all for God and never blames me as he might.
Be as resigned as you can, my own dear Mamma, to our Heavenly Father's will, and pray that I may learn how to do His work. I cannot write much. Time is precious for there is so much to be done. Give Mrs Finn my love and let us hope that this reverse will be followed by many blessings for herself and those she loves. We are all well, have plenty to do and are very happy.
I remain, dear mamma,
Your affectionate child in J.M.J.
Mary of the Cross – Sr of St Joseph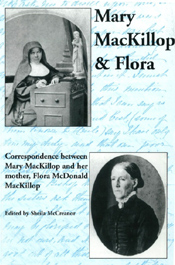 The letter provided is the sixth letter from a collection edited by Sr Sheila McCreanor of letters between Mary and her Mother Flora.
This book can be purchased at:
Mary MacKillop Place Museum Shop
7 Mount Street
North Sydney NSW 2060 Australia
PO Box 1081
North Sydney NSW 2059 Australia
Tel: +(61 2) 8912 4894
Fax: +(61 2) 8912 4835
Email: mmp.shop@sosj.org.au
Website: www.marymackillopplace.org.au