Our sesquicentennial celebrations throughout 2016 honoured the foundation of the Congregation of the Sisters of Saint Joseph of the Sacred Heart.
A Video Message from Sr Monica Cavanagh
(Congregational Leader)
---
During the year special events enabled all who are part of the heritage of Mary MacKillop and Julian Tenison Woods to renew their commitment to the vision of our Co-founders.
Celebrations during the year gave thanks to all our benefactors, family and friends of the Sisters of Saint Joseph who have journeyed with us since 1866:
to celebrate our unsung heroes who walked before us and planted the seeds of the Gospel.
to rejoice with our partners in mission who are listening and responding to the heartbeat of the world today, through various groups responding to the challenges of today – reaching out and  sharing our resources with others.
to reflect on how we listen and respond to the heartbeat of the world today.
to be challenged to the truth that one person can make a difference.
to be optimistic and open to the new relationships beyond 2016 with those who will continue the legacy of Mary MacKillop and Julian Tenison Woods.
The year was filled with gatherings for Eucharists, prayerful and reflective moments, pilgrimages, celebrations, a Justice Conference, and special launches, to be held across Australia, New Zealand, Ireland, Scotland, Peru, Brazil and East Timor.
As we celebrate with gratitude, we remember Mary MacKillop's words:"Let us be joyful and thank God." (1874.)
Sr Brigette Sipa rsj
Sesquicentenary Coordinator
---
Sesquicentenary Sentiments
---
Media Coverage
Catholic Leader – article from Sr Monica Cavanagh
Catholic Leader – article from Sr Annette Arnold
Catholic Leader – Josephites Gather for major milestone
Cath Weekly – online and print
Catholic Religious Australia – Print
Sr Susan Connolly – ABC Interview
Trent Zimmerman MP – Parliamentary Tribute Media Release
Trent Zimmerman MP – Official Speech to the Australian Parliament
Mosman Daily – Sisters Celebrate 150th Milestone
---
Acknowledgements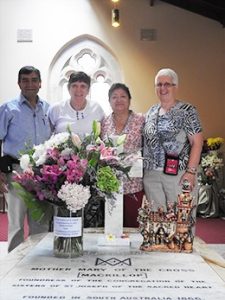 Carmen and Angel Llanco, Covenant Josephites from Peru with Sr Katrina van Ruth currently ministering in Peru. Carmen and Angel are in Australia representing the Peruvian people for the occasion of our Sesquicentenary. Carmen and Angel presented the Sisters of Saint Joseph with the beautiful Peruvian sculpture of Mary MacKillop surrounded by the Peruvian people.
The inscription reads: CON MUCHO AMOR, ANUESTRA CONGREGACION, EN SUS 150 ANNIVERSARIO. ALIANZAS Y ASOCIADOS JOSEFINOS DEL PERU, MARZO 2016 (With much love on the 150 anniversary of our Congregation, the Josephite Covenants and Associates of Peru. Marzo 2016)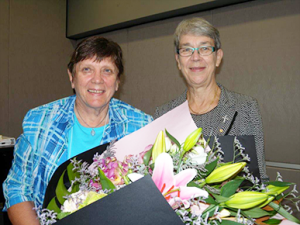 Sr Monica Cavanagh with Sr Judith Lawson the current President of CLRI NSW presenting the Sisters of Saint Joseph with a beautiful bunch of flowers on behalf of all the Religious Congregations at the recent Conference for Leaders to congratulate us on our Sesquicentenary. We brought them home and placed them on the tomb of Mary MacKillop.