Our internal organisation enables and facilitates our participation in God's mission and nourishes our religious and communal life. Leadership begins with each sister freely and openly taking responsibility for prayerfully discerning God's Will for her and willingly accepting and co-operating with those called to leadership within the Congregation.
Local Leadership
Each Sister is missioned to a Local Community of the Congregation with a Local Leader.  She commits herself to open and trusting dialogue in the creation of her community as it grows into a living cell of inspiration and interdependence, trust and inclusiveness, ever mobile for the sake of God's mission. These living cells of the Congregation are its primary units where the life of the sisters and their part in God's mission find their inspiration and expression.
Regional Leadership
Since March 19 2013 our Local Communities have been grouped into five Regions. Each is governed by a Regional Leader assisted by councillors. They are the:
Irish Region – comprising all Local Communities in Ireland
New South Wales – all Local Communities in New South Wales
CentreWest Region – that is, the Local Communities in South Australia, Western Australia, the Northern Territory and Timor Leste
Queensland Region – all the Local Communities in Queensland
Aotearoa New Zealand Region – all Local Communities in Aotearoa New Zealand
Victoria/Tasmania – made up of all Local Communities in Victoria and Tasmania
Nova Esperanza – made up of all Local Communities in Nova Esperanza, a municipality in Brazil
Central Leadership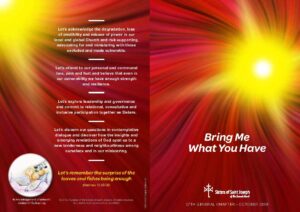 The Sisters of Saint Joseph are governed centrally by a Congregational Leader and at least three councillors. The Leader, inspired by the example of Mary MacKillop, keeps alive the apostolic zeal at the heart of the Josephite charism, helping break new ground at the service of the reign of God, while maintaining strong bonds of unity throughout the Congregation. Her task is to build up the entire Congregation and lead it in mission. The Regions are united as one Congregation under her leadership.

She and her team are elected at the six-yearly General Chapter of the Congregation and their mandate comes from their Constitutions and the decisions of the General Chapter. The General Chapter is the religious faith community of the Sisters, represented by elected and official members united in the Spirit and called together by the Congregational Leader to reflect on the fidelity of the Congregation to its Spirit, its charism and its mission in the Church, (Constitutions 29a)
27th General Chapter:
Bring Me What You Have
Listen!
God's call at this time
is to be audacious Josephite women
raising our consciousness of love
by imagining and acting
on new possibilities wherever we are
that will heal, include, untether, set right and serve.
Women of Earth
we are grounded in mission
steeped in the charism
participating in Church
as gospel community
engaging with neighbours
and ministering with Christ
in the Cosmos.

Page last updated May 2016