Quinlan Court Independent Living
Whanganui


Quinlan Court opened in 1998 to meet a need locally for affordable rental accommodation for the elderly.  Located in central city it is only a block away from the river and within walking distance to the Main Street, library, and medical surgeries.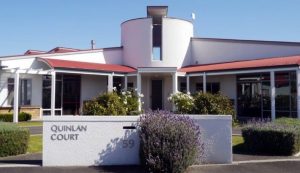 Providing affordable quality living in a safe environment with support for independence.  It is a modern attractive building set in beautiful private settings with the benefit of being close to city amenities. Individual units with lounge, bedroom (single) with ensuite, kitchenette and personal garden space.  Garaging is available on-site.
Home-cooked mid-day main meal is served in central dining room, breakfast and evening supper food provided.  24 hour on-call assistance, power, heating, all food requirements and laundry facilities are included in rent.
The building is centrally heated and has a common dining room, lounge, atrium, laundry and guest room.  An activities programme is available on-site.
Contact Information
Quinlan Court
59 Harrison Street
Whanganui 4500
Ph: 06 348 9505
E: quinlancourt@ssj.org.nz