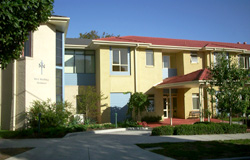 Mary MacKillop Aged Care
Our Legacy
During her lifetime Mary MacKillop initiated a safe, caring place for the Sisters of Saint Joseph who were in need of special care because of frailty in age or poor health.
Our Vision Today
In the spirit of Mary MacKillop we continue to provide a safe, caring, joyful, Christian environment for women and men who request a place in our Aged Care Residence, and seek to empower each person to continue experiencing life to the full.
Our Values
We believe strongly in the dignity of each person and do all we can to respect residents and all who contribute to their care.
We value
Compassion
Integrity
Hospitality
Harmony
Justice
Our Mission
We attempt to welcome and care for all who request a place in our Aged Care community.
By listening and responding to their personal needs.
By providing a safe, peaceful, spiritual environment.
By offering a prayerful, social and happy environment.
By building a sense of belonging and security for all residents.
Contact Information
Mary MacKillop Residence
4 King Street, Hawthorn East 3123
Phone: (03) 9861 9600
Fax: (03) 9861 9696
Email: admin.mmac@sosj.org.au
Website: www.marymackillopagedcare.org.au
Page last updated May 2016