Sisters of Saint Joseph have a long association with education, as it was in schools that Mary MacKillop began her ministry.
Josephites today are committed to providing people with the personal and communal resources necessary to live a full and rewarding life.
We work throughout Australia and New Zealand and in specific areas of Ireland, Peru, Timor Leste and Brazil, in colleges, schools, parishes, community centres and universities, to nurture minds, hearts and spirits.
Our educational commitment is connected to our 26th General Chapter mandate –
'To nurture communion in relationships of compassion, justice, mutuality and   healing as we engage in mission within the abundance and providence of God'.
Sisters of Saint Joseph are currently involved in these different expressions of educational commitment.
Adult and Tertiary Education
Bringing Music Alive
Cross Cultural Commitment
Eco Education
Getting to Know Mary MacKillop
Grief and Loss Education
School Education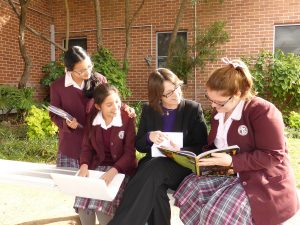 Page last updated June 2016