Sisters of Saint Joseph are called to stand in solidarity with and respond to the cries of the First People of lands in which they live.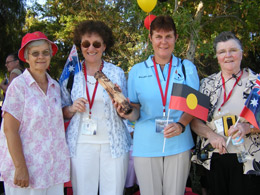 In the countries of Australia, Timor Leste, Peru and Brazil our Sisters work closely with the indigenous people.
Josephites, while standing in solidarity with the people, maintain an attitude and stance of learning from those with whom they live in partnership –
They work in partnership in areas including education, drug and alcohol programs, literacy, cultural identity, pastoral and family support, advocacy, child protection, development projects and emergency relief.
…nurturing potential, not dominating, walking beside, walking behind and when invited walking in front.
Page last updated May 2016