Ain Karim is a place of peace, joy and hospitality in a quiet street in suburban Enfield.
It is a very special place for adults with an intellectual disability who call it home, a place where those in charge are committed to enabling its residents to lead happy and fulfilled lives. They endeavour to do this in a welcoming and supportive community where people can live together in mutual respect and understanding.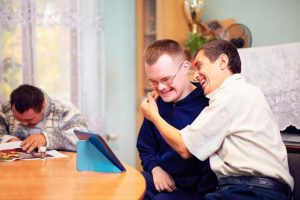 The name, Ain Karim, is that of an ancient village in Israel which has a place in the Gospel of Luke in the Christian Bible. This village, which lies a few kilometres from Jerusalem, is a quiet place of pilgrimage for Christians visiting the Holy Land. They go there because in biblical times it was home to the Jewish priest, Zacharia, his wife Elizabeth and, in due course, their famous son, John the Baptist. It is remembered because of a meeting there between those two remarkable pregnant women, Mary, the virgin mother of Jesus, and John's mother, Elizabeth. It was then, and still is a place of peace, joy, and hospitality, a meeting place from which the message of God's love spreads across the world.
Visitors to Ain Karim at Enfield in South Australia often experience a similar sense of peace, joy and hospitality as Mary and Elizabeth did so long ago. That is because it too, is a place from which the message of God's love spreads out to the wider world, and especially to the families of those who are privileged to call it home.
In 1982, two Sisters of Saint Joseph, Genevieve Secker and Mary Reardon, visited the village of Ain Karim and were struck by the peace and serenity of the place and the hospitality it offered. Sister Gen decided that when she started a community she would call it Ain Karim which means Source of Generosity.
Ain Karim opened its doors in 1984 and through vision, commitment and support from residents, families, friends, staff and the Sisters of Saint Joseph, it became a reality.
In July 2012, Ain Karim, which occupies two sites at Enfield, became a part of Mary MacKillop Care SA, beside St Catherine's Berri, Flora McDonald Cowandilla, and Tappeiner Court Kensington.
Services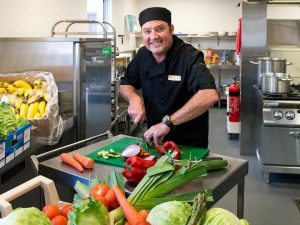 Ain Karim provides community housing and long term residential care for adults with an intellectual disability. Twenty residents are accommodated in its two sites.
The dedicated and professional staff at Ain Karim deliver a wide range of specialised services, catering for each resident's individual care needs. Passive overnight care by staff at each site offers residents and their families a sense of security and wellbeing.
Ain Karim cares for each resident for as long as possible. When specialised support is required, alternative placements are considered in consultation with the resident's family, Disability SA, and Mary MacKillop Care SA.
Features
Ain Karim has a range of shared facilities for residents to enjoy. These include common lounge and dining areas, outdoor courtyards and a barbeque area suitable for small family gatherings.
The accommodation offered at both sites comprises single rooms with shared bathrooms. In order to provide a sense of ownership and belonging, residents are encouraged to personalise their rooms with their own possessions.
Family and friends are considered paramount to a resident's wellbeing and are encouraged to continue to play a major role in their lives.
Regular open days offer ongoing opportunities for residents and families to come together in a social setting.
Page last updated July 2016