The Josephite Counter-Trafficking Project (JCTP) is a Congregational Ministry that responds to the needs of people who are trafficked.
Trafficking of persons is a human rights violation with between 700,000 and 2,000,000 persons being trafficked globally each year. Human trafficking is the second largest source of income globally, and Australia is a country of destination.
Members of the JCTP are Asian women, or other women who have had long experience in Asia or in working in cross-cultural situations. They offer flexible culturally-sensitive support to women of Asian origin who have been trafficked into Australia. They also offer collaboration with religious, government and NGO groups involved in providing services. They offer companionship in mother–tongue language in Chinese, Malaysian, Indonesian, Thai, Vietnamese, and Khmer for women who need this re-assurance.
They can provide culturally-sensitive mentoring to enable women who have been trafficked to Australia to make informed choices. They are developing programs to enable women to develop a sense of self worth. They continue to develop and maintain grass roots contacts in the Asia-Pacific region so that choices and options for women returning to their country of origin are clearly understood.
JCTP, working in partnership with the Salvation Army, have also opened Samaritan Accomodation which provides supported accommodation for migrant women who have experienced human trafficking. To find out more, click here.
Contact Information
Sister Margaret Ng
Phone: +61 432084249
Email: margmng@bigpond.com
---
In 2011 Sister Margaret Ng rsj presented a paper at the Regional Responses to Labour Trafficking and Refugee Movements in Asia-Pacific International Conference at the University of New England, Armidale.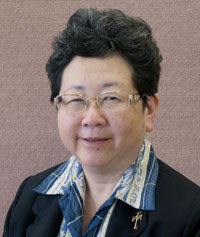 Margaret's paper looks at Trafficking in Australia and the impact of the trafficking process on survivors of trafficking. It also looks at the Australian government's approach and response to trafficked persons.
The response by Religious and NGOs to the needs of survivors of trafficking through the provision of holistic direct services is discussed. Central to the effort to empower survivors of trafficking is the collaborative attempt by Religious and NGOs to provide 'culturally sensitive' services.
The importance of collaboration has been highlighted by the Whole of Government Policy as well as the Annual National Roundtable on Trafficking that began in 2008, to strengthen Australia's response through a partnership between the Commonwealth and NGOs.