Ministry to Prisoners
Sisters are involved in prison chaplaincy in Queensland and South Australia. These Sisters offer pastoral care to prisoners and their family.
Other Sisters support people going to court, enable families to get to Correctional Centres to visit, write to prisoners, advocate for justice for incarcerated people and for their families and are constant in praying for all involved.
For further information contact Margaret.Robertson@sosj.org.au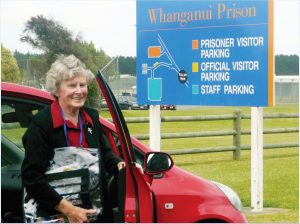 Prison Transport Group
Prison Transport Group is an Incorporated Association and our Mission is "to provide transport and other support services to the families of prisoners in Qld in order to facilitate family contact." PTG started almost 40 years ago as a volunteer organisation wanting to help mothers and children to have transport to a Correctional Centre for a visit. Public transport options were non-existent. Volunteers used their own cars in those days.
Through effective lobbying and advocacy we now have 7 buses and provide transport for over 7,000 visitors per year to 10 Correctional Centres. We provide over 22 bus services per week for family members to attend 2 hour visit sessions. The Correctional Centres in Qld are not located near any public transport so our service is vital.  We travel over 155,000 kilometres a year.
We also provide counselling, financial assistance when we can, and information on how families can cope with the reality of having a family member incarcerated. Young women and children account for 95% of the 7,000 visitors we assist every year. We care for these women and children and are proud of our service heritage as an organisation. It is acknowledged that this ministry provides a vital service to a neglected group in society.
Contact the Manager:     annie.mcguire@sosj.org.au
---
Parish Pastoral Associates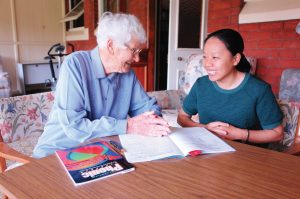 Sisters of Saint Joseph are engaged in significant leadership roles in a variety of parishes from busy city areas to tiny, remote and extensive rural communities.  We Sisters respond as ecclesial women in the spirit of Mary and Julian, living on the edge of our existence with Joseph, as we continue to re-imagine the gospel of Jesus, the Christ. (26th General Chapter)
Sisters who are involved in Parishes, Deaneries and Dioceses have expertise in Liturgy, Spiritual Accompaniment and Styles of Prayer, Counselling, Adult Education, Sacramental Preparation, Theology and Scripture.  We are there both in times of new life and celebration and in times of grief. We are ready to respond to various needs in parish life, e.g., by preparing liturgies, leading adult education and prayer groups, preparing candidates for Sacraments, burying the dead, consoling the grieving, and/or accompanying a young family who mourn the death of a child.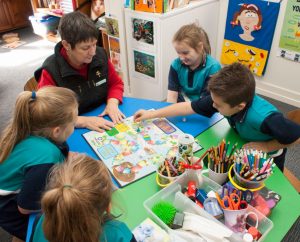 Chaplaincy, Pastoral Care and Visitation
Sisters of Saint Joseph serve as chaplains in schools, in hospitals, in aged care facilities, in prisons, on ships and on the docks, in detention centres and for different groups.  With wisdom gained from educational experience we are able to provide pastoral care, support and mentoring to staff, students, families and the community.
Thus we accompany people in a unique and valued way. Visitation is a strong value and practice of the Sisters of Saint Joseph.
We go where there is a need.  The value of relationships is essential in relieving suffering and bringing hope.
"I chose you:
and I commissioned you
to go out and to bear fruit
fruit that will last …..
What I command you is to love one another."

Page last updated: June 2016