The Sisters of Saint Joseph first came to New South Wales to Perthville in July 1872.
Later Mary MacKillop and her Sisters received invitations from two bishops in New South Wales – Archbishop Roger Bede Vaughan OSB (Sydney) and Bishop Elzear Torreggiani OSFC (Armidale) and foundations were made in 1882. The Sisters of Saint Joseph in Goulburn were founded in 1882.
The following is the story of the second foundation.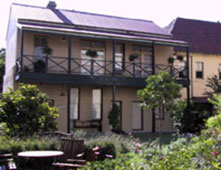 In 1880, once again foundations were made in New South Wales – The House of Providence in The Rocks area of Sydney, as well as schools at Penrith, St Marys, Lithgow, Wallerawang, Dapto, Picton, Inverell, Tenterfield, and in the Inner City of Sydney.
In May 1881, a larger building was purchased in Cumberland Street, The Rocks, Sydney for The Providence and was seen also as a temporary Novitiate for those postulants who entered in 1880-81. In 1884 the Novitiate was formally established there. Dean Kenny, retired pastor of the North Sydney parish, however, donated his house (Alma Cottage) to the Sisters for their use as a Novitiate. He considered the location in Alma Lane off Mount Street more appropriate than the house they occupied in The Rocks area. By May 1884, Mary MacKillop had moved in and later acquired Alma Terrace. In 1888, a Roman Decree designated this convent as the Mother House of the Institute in preference to The Providence.
According to community location and numbers, Mary organised the Institute of the Sisters of St Joseph into Provinces each of which had a leader called a Provincial. During the following one hundred and ten years or so, Sisters in NSW saw many changes occur in their province structure.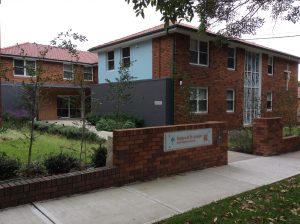 The members of the Congregation Mary MacKillop founded are women who work in a simple ordinary way sharing in the mission of Jesus in the service of the poor. From the earliest times, inspired by the charism of Mary MacKillop they have worked with the clergy and people of both urban and rural areas to spread the good news of the gospel. Trust in the Providence of God is basic to Marys charism.
From the earliest days, the Sisters of St Joseph in New South Wales have realised the importance of this trust as they have been challenged to meet the new and changing needs of each decade. They are proud of their history, and at the Provincial Chapter of 2001 re-committed themselves to retell the story of Mary MacKillop with their lives, letting her passion be their passion.
Page last updated May 2017