March 5, 2018
I recently received an email expressing appreciation for a wonderful act of kindness.
Three of our Year 11 students, Meg Abbott, Caitlin Mulveney and Gabi Tan, volunteered their final day of the school holidays to support the Sisters of Saint Joseph. The girls volunteered to be lifeguards for young children at a pool party at the sisters' Croydon convent, for newly arrived refugee families and some Sudanese refugee families. Our girls were thanked for their selfless participation. I was informed that the girls worked tirelessly in the hot sun all day and did it all in a spirit of generosity, happiness and sincerity. It was so special receiving this email, as it was a lovely example of our values in action. I asked the girls to write a reflection on their experience for this newsletter. Please find their reflection below:
---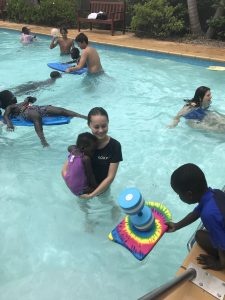 On the 29th January, we had the opportunity to volunteer as life savers for Sudanese refugees at the Convent of Saint Joseph in Croydon. This was an enjoyable and rewarding experience for all of us as we were swimming with children who wouldn't have had this opportunity without the compassionate and empathetic work of the Sisters and volunteers.
In Sudan there is much conflict and injustice which is causing many people to flee. This is an enormous sacrifice as they leave their country, family, jobs and culture in search of a secure future. Coming to a new country has significantly impacted their lives as they have had to rebuild their life without the support of family as well as challenges of language barriers and finding employment. As a result of the sacrifices these families made to come to Australia, as members of the community, spending a day at the pool is the least we can do for them.
We had an amazing day with the kids because they were so happy and excited to swim with their friends and eat all the sausages they could want. Watching these children have a wonderful time was extremely rewarding for us as it brought us great joy, making it a day we'll never forget. We met some generous volunteers who dedicated their time and effort to helping refugee families feel welcomed to the community and the work that they have done has made a positive impact.
Many people may think that they can't make a difference but everyone has the power to make a change even if it's only small. The most important thing that we took away from the day is not to view people by the labels and status for which society may judge them, but to view them as people and equals.
We would strongly advise any girl who loves to work with children to volunteer for a day to have an enjoyable experience of making a difference and sharing happiness with these refugee children and their families.
By Meg, Caitlin and Gabi
---
Anna Dickinson
Loreto Kirribilli School Principal
Article was originally posted in the Loreto Kirribilli school newsletter. Article used with permission.
Photo provided by Karen Oxley. Used with permission.