May 24, 2020
The Ascension presence and absence, love and loss, stand apart and remain together.
There is a rock on the ground in the Holy Land which holds the semblance of a footprint and the tour guides tell us this is where Jesus's foot last touched the earth before he went up to heaven. The writer of Col 3:2 admonishes us to "Put your minds on things that are above, not on things that are on earth." No doubt you've seen fervent sportsmen and woman cast a gaze upward as they murmur thanks or sign themselves after a goal. I can understand that the Jewish people with their ancient cosmology would have the belief that heaven is above, but I hope that bit by bit we can come to see that heaven is not up but here, because God is here.
The thing about the Ascension is that Jesus is gone and is still present. He disappears and says at the same time "I am with you always." There is absence and there is presence, there is love and there is loss and absence makes the heart grow fonder. Many of us have experienced this with our loved ones. We lose them to distance or in death and later we are very conscious of their presence at different times, helping us, encouraging us. So it is with Jesus, the Christ.
We are often reminded that Jesus has gone to a better place and we are all to follow. The danger here is to see this place where we are is not permanent therefore not important. This may in part be the reason why we have treated our Common Home so badly as Pope Francis points out in Laudato Si.
This reminds me of our COVID-19 reality when we stand apart and yet remain together. We practise social distancing and at the same time find all kinds of ways of being together, like the many great performers who "came together" in April while remaining in their gardens or in their living rooms to entertain us, show their appreciation of the front line people and ask corporations to donate to the WHO fund against COVID-19. Here is Christ present among us, the generous Christ, the creative Christ, the compassionate Christ, the beautiful Christ.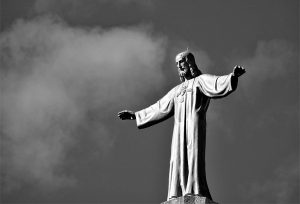 He told his apostles that he was going and that he had to go because otherwise the Paraclete could not come. Perhaps they thought they would rather have Jesus than the Paraclete anyway, not realizing that it was another way of having Jesus, of having His Spirit, less tangible but no less real for that. Gerard Manly Hopkins has a poem which begins with "As kingfishers catch fire…" The second stanza explains beautifully how Christ is present, here and now…
I say móre; the just man (woman) justices; Kéeps gráce: thát keeps all his (her) goings graces; Acts in God's eye what in God's eye (she) he is – Christ – for Christ plays in ten thousand places, Lovely in limbs, and lovely in eyes not his; To the Father through the features of men's (our) faces.
Please continue reading below:
Frances Maguire rsj
Photo: Statue of Jesus by Juhasz Imre obtained from Pexels. Used with permission.