April 17, 2018
Secondary Student Leaders from MacKillop Catholic College, Warnervale, stand in solidarity with those who struggle for basic human needs.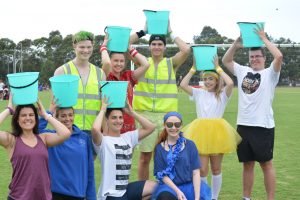 At our College Athletics carnival held on Friday 16th March, our senior student leaders took an opportunity to raise awareness of a significant global social justice issue. The leaders met with the carnival convenors prior to the day and managed to schedule a time slot for them, to take the opportunity to raise awareness around the issue of Clean Drinking Water.
Not only did the students convey an audible message via a narrator, but they also provided a very strong visual message of themselves carrying single buckets of water predominantly on or above their heads. A clear and strong message was given around the more significant impact of this problem on Woman and Girls in certain poor communities. The script that was read on the day is included below. Two of our College leaders shared the reading of this script to the entire College Community, while all of the other leaders each spaced themselves around the Athletics Track and took turns at carrying large buckets of water for a distance on their heads.
Read the script from the day below…
---
How far do you walk to get your water?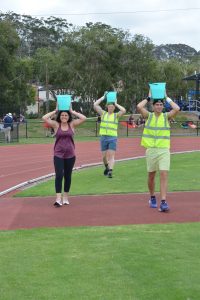 Did you know that one in nine people don't have clean water close to home? Every year, thousands… no millions of people die of water related diseases such as Malaria. Poverty related deaths are one of the main causes of death in third world countries and due to limited finance people are unable to obtain clean water to drink and must walk on average six kilometres to obtain water that in most instances is not clean. At times the only water available is disease ridden water that can potentially kill community members. Diseased water has a higher death rate than both war and violence.
Women and children must collect water in order to survive, and this can limit their potential in education through school and work opportunities for an income. Research indicates that on average a total of 200 million hours a day and 40 billion hours a year is spent by girls who walk and collect water. Approximately half a woman's day can be spent collecting water. In half of your day what could you achieve?
---
MacKillop Catholic College
Warnervale
Photos provided by MacKillop Catholic College. Used with permission.