July 8, 2018
Esther Bevan – fanning the spark.
Esther was the long time Chair of the Catholic Education Aboriginal Committee.
I believe that the only way you are going to ever change anything or right wrongs is if you are part of it, and you work away at it.
Esther certainly put this into practice. She involved herself in most of the induction sessions for teachers new to the Kimberley, and took her role of engagement with the grass roots of Kimberley communities seriously. She was instrumental in giving a high priority to two-way education in the Catholic schools, whereby language and culture classes were given a priority and all the school staff would be part of them.
As an alcoholic herself, Esther knew the value of education and support for people battling addictions and was very involved in initiating programs to support people who wanted to change their lives. Many programs were held at Mirrilingki over the years focused on this type of support. As Tom Stephens noted in the West Australian Parliament in 1996 in speaking about services to Aboriginal people in the Kimberley:
Another facility is just up the road, the Mirrilingki Aboriginal Education Centre within the Warmun community near Turkey Creek. That facility focuses on Aboriginal alcohol programs, and I have not seen any other program like it in this State. It is a quality program with fantastic staff, with Aboriginal leadership by Esther Bevan, and with quality support people like Patricia Sealey rsj and her colleagues who in the East Kimberley region are tackling alcohol programs without any funds at all, despite their pleas for financial support from anywhere, including the State Government.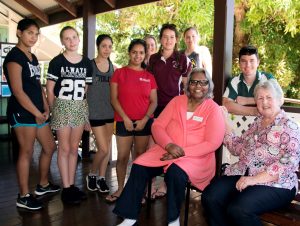 It was her Catholic Education Aboriginal Committee that obtained the funding for the Substance Abuse Program that was produced for Catholic Education in 1998, working closely with Veronica Ryan rsj, who was then Regional Director of Catholic Education.
Esther was integral to the founding of the Notre Dame Broome Campus, and took every opportunity to encourage Aboriginal young women and men to further their education. She appeared on radio and television, gave evidence to parliamentary and Commission enquiries, where she spoke the truth as she saw it without fear or favour.
Esther retained a close association with the St John of God Sisters, who educated her at Beagle Bay. She said in 1999, "One of the greatest things Sr Therese gave me…She gave me a hunger for learning and that was the kind of thing they gave us. To this day I have it… And when you meet any of these women – that's what they (the nuns) put into them."
In 2009, the Western Australian Aboriginal Education and Training Council (AETC) award for commitment and dedication to Aboriginal education was awarded to Esther for her deep commitment and service to Aboriginal education over many years. Because of her vision, enthusiasm, and drive in this vital area of education, many others have excelled and achieved, and taken their rightful place as leaders in their own communities.
Shane Wood cfc
Photo provided by SSJG (Sisters of St John of God) Heritage Centre, Broome. Used with permission.