September 8, 2017
In the past few weeks, the many stories about the growing gap between rich and poor in Australia, continue to remind us as Josephites, of the underpinning core of our passion and work for those who have been pushed to the edge of our society.
The Bishop's Statement, "Everyone's Business: Developing an inclusive and sustainable economy", is of critical importance to us at this stage of our nation's story.  It highlights the way that we have shifted as Australians, from a community where egalitarianism and a fair deal for all was our proud boast, to one where the aims of corporations and investors take priority in the political agenda.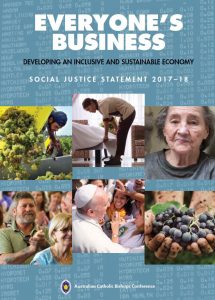 This statement highlights the suffering of those without a voice. As we have watched the emergence of an underclass, and the increasing numbers of those who have been excluded in Australian life and society, 'Everyone's Business' reminds us that we are called yet again, as Josephites, to stand with those who are pushed beyond the edges.
The Church is urging government and business to address "the growing inequality" in Australia by not allowing unfettered market forces to dictate wages, housing costs and power prices.
"For many Australians, the spectre of homelessness is becoming too real. In major cities and towns the prospect of buying or even renting a home is moving out of reach, even for those with decent jobs. Emerging groups such as older Australians, particularly women, are at risk of becoming homeless. The problem for those who believe in a just society is that the benefits of more recent growth have been spread so unevenly."
Frank Brennan reminded us at the launch of the critical importance of moving beyond a 'them and us' mentality to a strong sense of only 'us.'
Jan Barnett rsj
View 'A Prayer for Economic Justice'
Find out more about the Social Justice Statement
Read the Social Justice Statement