April 8, 2018
I was really taken by this question in the recent Sojourners Magazine.
The writers describe the range of attitudes in Nazi Germany –  from those German Christians who were complicit with Hitler's regime, to the group called the 'Confessing Church' who resisted strongly.  A consideration of the different responses to the Nazi regime, has led the authors to explore the lessons for the American Church today.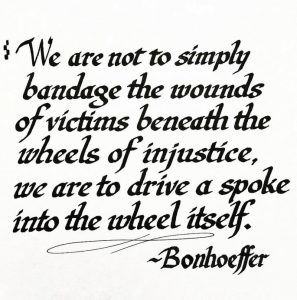 It seems to me that these reflections also have clear implications for us – as Australians, as individuals, and as a community, especially during this Easter season.
Bonhoeffer led a Christian movement, which condemned the dangers of Hitler's white nationalism and rhetoric of the 'master race, his wholesale extermination of the 'enemy Jews' and the widespread culture of deceit, scapegoating, fear and violence.
In response, Bonhoeffer emphasised Christian and gospel faithfulness, based on the discernment of the signs of the times and fidelity to the call of Christ.  In the face of widespread accommodation by the majority of Christian Churches to the Nazi regime, his was a stance that was both courageous and outspoken, and inevitably led to his imprisonment and execution.
In the U.S. the contradictions of this presidency, the 'make America great again' nationalism, the racial scapegoating of Mexicans and Muslims, the pervasive influence of 'fake news' and the resultant confusion among people of good will, call us, as Bonhoeffer was called, to a renewed discernment of the signs of this time.
For each of us in Australia, the issues around Indigenous justice, Australia's treatment of asylum seekers and refugees, the ongoing decimation of the environment, the rapidly escalating gap between the rich and poor, and the violence suffered by those pushed to the edges of our communities, raise questions around the morality of Government decisions, the seeming apathy on the part of many Australians, and the call to us as Christians and Josephites.
To insist on the rights of those who are most vulnerable, to take the side of those who are the most powerless, requires huge courage, especially when these run counter to current thinking and the opinions of the popular press and talkback radio.
At the International Women's day breakfast at Monte Sant Angelo in March, Madeline Gleeson spoke of what she sees as the fundamental ingredients of justice at this time.  Her reflection on the need for compassion, courage, critical thinking, creativity and resilience has given me much to consider.
As have Bonhoeffer's words. The compelling call of this moment.
Jan Barnett rsj
Images:
Sculpture of Dietrich Bonhoeffer by Fritz Fleer in front of St. Peter's Church, Hamburg, used wth permission.
Calligraphy – Bonhoeffer Aug 14 2017, used with Permission.