March 5, 2021
World Day of Prayer 2021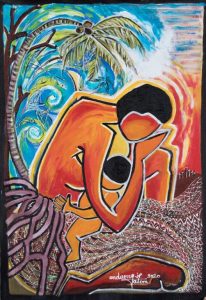 The movement of the World Day of Prayer can be traced back to the 19th century where women in the United States and Canada initiated a variety of cooperative activities. It is now an ecumenical global movement where all are asked to join in prayer and action for justice and peace. Catholic Social Teaching uses these themes as well – informed prayer and prayerful action.
This year the prayer has been prepared by a group of women in Vanuatu, with its theme being "Build on a strong foundation." [1] I remember visiting Vanuatu on a holiday in 1982, where I was warmly greeted with a hospitable people – full of colour and dance, who shared everything they had with you.
The pericope selected from Matthew 7:24-27 reminds us of the teaching of Jesus – to hear his words and put them into action. Again, echoing the World Day of Prayer motto of "informed prayer and prayerful action." How do we see this fitting with the world today?
Even in the midst of the global pandemic, we are asked to unite again in prayer – for a global world that is hurting and in need of healing.
Last year, Vanuatu was hit by a hurricane. Choosing where to build a house with strong foundations is particularly important for the people of this land. Even prior to last year, the second most intense cyclone (Cyclone Pam) hit the island of Vanuatu. A well known artist in Vanuatu, Juliette Pita, shares the background of the image used for this year's World Day of Prayer.
The image shows a mother bending and praying over her child. The waves crash over her but a palm tree bends protectively over them. The woman's skirt is modelled after the traditional clothing on Erromango. On the horizon you can see small crosses representing the lives taken by cyclone Pam in 2015.
A statement from the most recent Chapter of the Sisters of Saint Joseph states:
Let's face the crises affecting people, other species and Earth itself at this time and with compassion and urgency collaborate locally and globally to influence governments, companies and others to halt the damage, protect life, restore habitats and settle the homeless.
Pope Francis in his Encyclical Letter Fratelli Tutti speaks to the chaos, fear and loss that pervaded 2020 while sounding a timeless call to become better citizens of our communities, our nations and the globe.  He encourages us to remember that "in the power of the risen Lord, she (the Church) wants to give birth to a new world, where all of us are brothers and sisters, where there is room for all those whom societies discard, where justice and peace are resplendent." [2]
World Day of Prayer is on the first Friday of March each year – this year on 5 March. May you find yourself united locally, praying with others for the healing of the world and building a strong foundation on the word of God.
Rita Malavisi rsj
Footnotes:
[1] World Day of Prayer 2021 – World Day of Prayer, Australia. World Day of Prayer, Australia website.
[2] Pope Francis, Encyclical Letter Fratelli Tutti (3 October 2020), No. 278.
Image: Copyright © 2021 WDP International Committee. Inc (WDPIC). All rights reserved. Used with permission.