December 7, 2017
The Incarnation of Jesus is one of the greatest mysteries of our faith.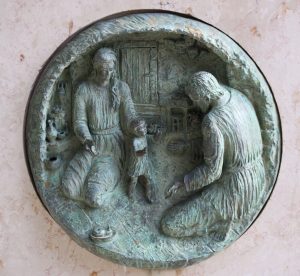 When Mary said yes to the invitation to be a bearer of God's love she did so despite her own vulnerability and with an open and trusting heart. Together with Joseph by her side they were both able to rise above the challenges faced and ultimately trusted in the mystery of God's plan. In a typical domesticated fashion there were no doubt some interesting discussions between the two of them.
Like many parents-to-be there would have been excitement around the impending birth but perhaps more nervousness than other first time parents given the unconventional nature of the pregnancy. And of course there would have been many questions raised including what changes do we need to make? What do we need to do to make room to welcome Emmanuel, God-with-us? These are the very questions we need to ask ourselves in our own current reality.
In their discovery of the answers to these questions Mary and Joseph responded with a faith filled trust. Because of this we hear in the infancy narrative how love was born in the most unexpected place, in the midst of fear and oppression and in the most humble of circumstances.
This Christmas may we be reminded of the invitation to be bearers of God's love in the midst of our broken world. May we do so with the humility and gentleness of Mary and the resourcefulness and protection of Joseph.
Anne-Marie Gallagher rsj