January 4, 2018
In 1936 when the Sisters of Saint Joseph came to Berri SA to open a school, I was impressed with their lifestyle in community and ministry.  The fact that they taught children in the country made a deep impression on me.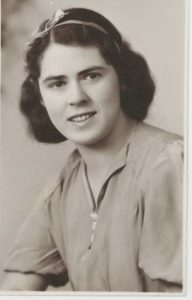 I enjoyed an excellent education at Berri and then at the Juniorate at Cowandilla and this prepared me for my future.  I chose to enter the convent in 1941 when I was nearly nineteen.  After three years of training and spiritual formation I was ready to teach in schools.
While I was teaching and ministering for fifty years I felt close to primary and secondary students.  I've been involved in primary, secondary and boarding schools.
I spent one year on the Port Pirie Motor Mission when I gave Religious Instruction to the Catholic students in the State schools.  I also visited their parents.
Living in a community is essential for religious life and I have experienced supportive companionship, faith sharing and sometimes challenges which is good for developing character.
After 50 years of teaching and administration in schools I was invited to join a community in a country convent (Port Lincoln) where the Sister/Principal was in charge of a Reception to Year 12 co-educational school.  My first ministry there was to administer a co-educational Boarding House where secondary boys and girls from outlying areas lived.  A Dominican Sister shared the work through supervision of the boarders and after a short time in that ministry I helped in the school office until more office workers were employed.
I joined the staff for morning tea each day and sometimes I was invited by a few teachers to talk about various topics with classes.  My main ministry then was working in the parish, visiting the hospital, aged care homes and the elderly.  Living in ministering in a parish is life-giving and I owe much to the parishioners while sharing their lives and participating in parish activities.
After 20 years in the country I was asked to live with another Sister in a house at Kensington SA.  I have continued to drive in the city after many years of driving the 650 km to the country convent.
I have been blessed with a long life (now 95 years of age) and I am looking forward to celebrating my Tourmaline celebration – 75th Jubilee of profession – in 2018.
Now in my retirement, prayer and community are central to my life.  These days are especially a time of gratitude to God, my parents, family and to all the Sisters with whom I have lived and ministered.
Joan Barry rsj