October 23, 2019
The spirit of Mary and Julian lives on in Catholic Schools where children are focus.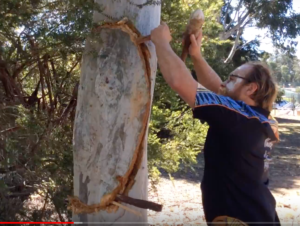 Universal Children's Day is a celebration of children's rights, talents and citizenship. It is celebrated on 23 October in Australia and on 20 November around the rest of the World each year.
Mary MacKillop and Fr. Julian Tenison Woods encouraged the sisters to recognise that children as the image of God, had an innate dignity.  At St Thomas More Catholic Parish Primary School, (STM), the place in which I am privileged to minister, this legacy is very visible. Children here are given every opportunity to develop their gifts and talents and to gain an awareness of the richness and wisdom of the culture of Aboriginal or Torres Strait Islanders to our nation.
Andrew, a Gamilorio man, is our AEA, he worked with the Year 3 students as they studied first nations life before colonisation, a topic that covered food, water, shelter, tools and implements. He demonstrated the cutting of a coolamon from a tree using traditional tools, the yarning mats[1], a stone axe, bundi (hitting stick) and stone knife.  He explained the types of trees suitable, many of which are on the grounds of STM. He explained that while the tree is sacred it heals.  He demonstrated how to show respect and thanks to the tree for the gift for the coolamon.  This was done by painting and sticking some of his hair to the tree.  While working Andrew explaining the meaning of what he was doing, it proved to be quite memorable for the students and staff.
Andrew stated that "STM is very unique, as no one has done this in a very long time and as far as I know, no one in Catholic Schools of NSW are using stone axes anymore."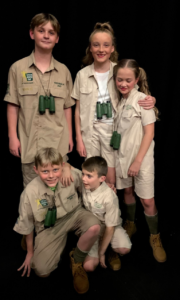 Another area where the children develop and enjoy their talents is in the arts. One hundred and two children from Kinder to Year 6, and a dedicated band of teachers spent many months at lunchtime and after school learning to working together using acting, dance and music to tell the story of the Crocodile Hunter, Steve Erwin. This was not only the story of a very interesting Australian, but  of man passionate about the environment, something we try to keep in the mind of all members of our community.
It was wonderful to see that both boys and girls were eager to be part of this performing arts activity.  Parents, and grandparents were involved making of costumes and preparing the students for the performance.  The tradition and spirit of Catholic Schools lives on!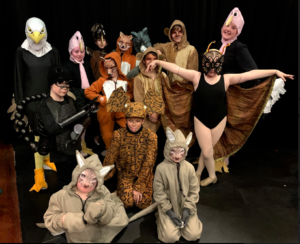 This was all part of the national arts competition Wakakirri. Our students were successful in their round and competed in their section final, where they were named the winning story. STM is now in the running to be named the story of the year, a great achievement for the 'ordinary' but talented classroom teachers and students.
Niesha Allport rsj
[1] The use of a yarning circle (or dialogue circle) is an important process within Aboriginal culture and Torres Strait Islander culture. It has been used by Indigenous peoples from around the world for centuries to learn from a collective group, build respectful relationships, and to preserve and pass on cultural knowledge.