February 6, 2019
In 2019, we introduce a series called 'A Day in the Life' featuring a different sister's ministry each month. For February, you're invited to read about Sr Pat's 'Ministry in her Senior Years'…
---
Anyone seeing me in the street, who perhaps had known me in my so called 'active' years of Education and Administration at High School, Teachers College University and Congregation might think my years of ministry were past.
There is a certain truth that I don't express my ministry the same way. As my body has disintegrated, I can't put my shoes or socks and other items of clothes on without the use of aids. I had to learn to let go and to accept the fullness of life as it is.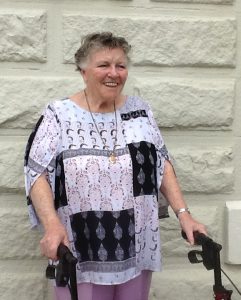 Ministry for me is still trying to be present to Christ within me and making the love of God present to those I meet. I might not be talking about God as much, but I hope the smile I share reflects God's love and the shine in my eyes invites others into the mystery. I have a deeper sense of the presence of God in my life and this fills me with gratitude and hope and love and a sense of time and balance. It is this quieter presence, which invites me to stand with a tree and sense the wonder of the universe or, look at the stars and appreciate its mystery. It is this stillness which helps me to be more aware of the mystery of God's loving presence in my life and sickness and that of others.
This allows me to be quiet with others who are in pain or questioning or without hope. My whole Josephite life has prepared me for now. I still need to be aware of our changing world and to read and to pay attention to the various expressions of the media so that I may be more open to the story, the quiet need of the person I meet down the street, in hospital, wherever I am.
I am not afraid of being in situations where there are expressions of pain or joy or fear. All human feelings are part of the mystery of life and our loving God. Quite often these people don't refer to God in our Tradition or any, but my ministry at this time is to be present with that person so that they can feel some human presence and I leave the rest to God. This is a very gentle and simple ministry wherever I am, yet it is what I am called to now.
I try to support advocacy groups that are working very hard for justice issues by doing simple tasks such as adding my signature to petitions. I try to stay aware of the needs of our society, our world and sometimes to contact the people working directly in these fields so they may feel some sense of support and prayer for their lonely ministries. I sometimes help other people in their ministries by checking something or helping them rearrange material on the computer. I can do simple editing tasks that assist in the Congregational Communication ministry. All of this is a gift to share in the wider Congregation ministries but is very limited.
I am very grateful that I am still conscious of the world around me and of the God within me and around me and it is this mystery which is central to my senior years and calls forth all my expressions of ministry.
Pat Malone rsj