October 7, 2018
How proud we can be of 'Father Founder' as Saint Mary MacKillop lovingly entitled him. A dedicated Priest, Educator, Founder, Scientist, Missionary and Journalist, Julian used his many talents in the service of God and God's people.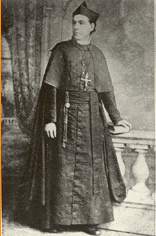 His 57 years were spent listening to the voice of the Spirit calling him to live the Gospel.
In early years, Julian searched for God in nature, in the Church among learned groups and in Religious Life. All this brought him into deep union with God which was reflected in his prayer, life and ministry.
The monument over Julian's grave in Waverley Cemetery, Sydney, depicts many aspects of his life. It is surmounted by a Cross, symbolic of the many crosses Julian endured during life: indifferent health, misunderstandings, feelings of isolation and conflict with Church authorities. Julian reflected:
What would life be without the Cross? Under its shadow we meet the Mother of Sorrows who can teach us best through the Cross the infinite love of Christ.
Below the Cross is a symbolic church-like structure with columns and spire, reminding us that commitment and loyalty to Church was paramount in Julian's life. The spire depicts Julian's life of contemplative prayer, aspiring heavenward and encouraging the Sisters of the Religious Congregations he founded to be women of prayer. Julian wrote:
Cultivate… prayer, meditation. Keep hold of this no matter what else you neglect.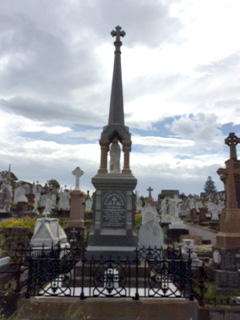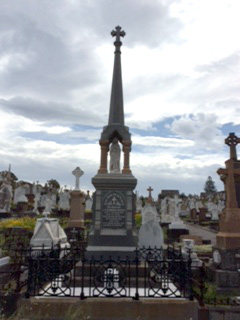 Devotion to Mary was a great consolation in Julian's life and intensified for him when a lad of fourteen after the death of his mother. Within the church-like structure stands a statue of Mary, whom Julian named 'his Mother'. He wrote hymns and poems expressing his love for Mary and had utmost confidence in her intercession. His devotion was enhanced when he spent time as a student with the Marist Fathers in France. He later wrote to Mary MacKillop on 27 February 1864: 'Our Mother will come to our aid… feel no doubt.'
Julian's life is summarised on three plaques on the monument, naming him on the right face as Founder of the Sisters of St Joseph in Penola in 1866 and the Sisters of Perpetual Adoration in 1874.
The scientific 'world', in which Julian delighted, is recorded on the left face and this, with the granite monument, was donated from subscriptions raised by his friend William Archer.
Julian's death on 7 October 1889 is recorded on the centre face.
At the base, a book depicts the Scriptures, source of inspiration for Julian in prayer, with words he tried to live and also wrote to Mary MacKillop on 5 November 1871: 'God's Will be Done.'
Mary MacKillop described his grave thus:
How appropriate is the last resting place of a gentle learned priest and naturalist… here on the hillside overlooking the Pacific… the mortal remains of Father J E Tenison Woods await the Resurrection.
May Julian's life inspire us all!
Connie Cummings rsj
Photo of Fr Julian Tenison Woods used with the permission of the Trustees of the Sisters of Saint Joseph.
Photo of monument by Connie Cummings rsj. Used with permission.