October 7, 2019
Anniversary of the Death of Fr Julian Tenison Woods on 7 October.
It is true God's ways are not our ways, but if we look closer into it, we see that God is the Way, just as God is the Truth and the Life. [1]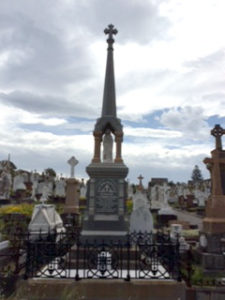 We commemorate the 130th anniversary of the death of Julian Tenison Woods on 7 October. A multi-faceted human being with extraordinary gifts and talents in a variety of fields, his scientific exploration and writings demonstrate his profound appreciation of nature and challenge us to reverence creation. While he was well regarded in the scientific world, he was beset by many personal disappointments and misunderstandings within the church. He was not a saint, but through his suffering, he remained constant in his faith and committed to his priesthood.
We invited Tenison Woods College students in Mount Gambier, SA to produce a video to celebrate this wonderful man – please view at the end of this article.
Father Julian was a renowned missioner who captivated thousands with the eloquence of the inspirational homilies he preached throughout Tasmania, New South Wales, and Queensland. He left his mark in Penola and its outlying regions during his "ten years in the bush," and the local monuments to his memory demonstrate that he is still remembered there with love.
While Father Julian was in Penola his bishop commanded all his priests to establish Catholic schools in order to protect the children's faith. After several unsuccessful attempts at getting suitable teachers for his school, he took an extraordinary decision—he would found a new religious order for "the education of Catholic children from poor families."
Young Mary MacKillop, who was working as a governess in the area, agreed to be its first member. They worked together and soon there were Josephite schools in many parts of South Australia and beyond. This endeavour was marked by numerous difficulties and caused great tensions between Father Julian and the priests of the colony.
These resulted in the excommunication of Mary MacKillop and the dismissal of some sisters from the Congregation. Although an enquiry, initiated by Rome, exonerated Mary and the sisters and acknowledged Julian's goodness, he was removed as their Director. This action and subsequent disagreement over changes to the Rule caused his estrangement from Mary MacKillop and the centrally-governed Sisters and created deep sadness for all.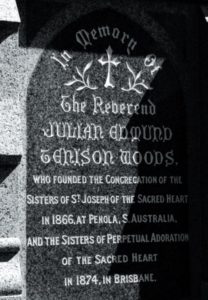 After Father Julian's contact with the centrally-governed sisters ended, he became involved in the formation of the diocesan Josephites at Perthville. He also laid the foundations for the establishment of the Sisters of Perpetual Adoration in Brisbane. Two years before his death, he commented that he was looking forward to a time "when all St Joseph's children [would] be brought back together again and be what they were in the beginning."[1] This has been achieved in part in recent years.
At odds with a church which at first embraced him and then distanced itself from him, he died surrounded by a group of loyal women in Sydney. Clothed in the Passionist habit, he was buried from St Mary's Cathedral on 9 October 1889 with thirty Sisters of St Joseph attending. Members of the scientific community also attended his requiem and later erected over his grave at Waverley Cemetery an impressive monument recognising his life's achievements. At Mary MacKillop's instigation, the Sisters of St Joseph built a chapel at North Sydney to honour their Father Founder.
We remember this complex man.
 In triumph and in diminishment, in serenity and in turmoil, in joy and in sorrow, Julian Tenison Woods made his unique contribution to the symphony of life. We, too, are invited by our loving God to live out our motif in this symphony. [3]
Jo Brady rsj
---
Sr Mary Cresp (a Sister of Saint Joseph of the Sacred Heart) on behalf of the Julian Tenison Woods Committee, had invited Catholic schools to prepare some kind of project to commemorate the anniversary of Fr Julian's death.
Students and teachers from Tenison Woods College, Mount Gambier in South Australia, produced a fantastic video to celebrate this wonderful man.
You're invited to view the video below:
---
Footnotes:
[1] JTW Paraphrase of Letter to Sisters of Perpetual Adoration, 23 October 1885.
[2] Letter JET Woods to Sr Francis McCarthy, August 1887
[3] Symphony of Life: Julian Tenison Woods, Sisters of St Joseph, p. 8