February 8, 2019
Sr Patricia, on behalf of the Diamond Jubilarians, reflected on the wonder of their 60 years of amazing service…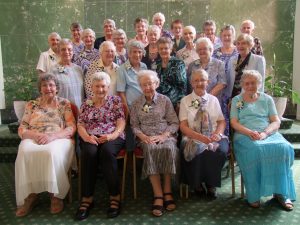 On Friday 11 January 2019, twenty-four Sisters of Saint Joseph celebrated 60 years of Religious Profession. Five more Sisters were unable to be there however, were with the group in spirit.
A jubilee is a marker along a journey that began for us in 1956. We celebrate 60 years of apostolic endeavour. As we reflect on these years we share with you some moments along the way. Here are our voices.
My journey has been like a pathway, with pebbles of many shapes, sizes and colours. I followed God's call to serve in country, and city schools then the path branched into Aged Care, and country parishes. All the time I saw God in my life, in faith, trust, blessings and surprises; sometimes in illness, obstacles and change. God helped me see Him in the people and in the world around me. God has gifted me with a full and rewarding life.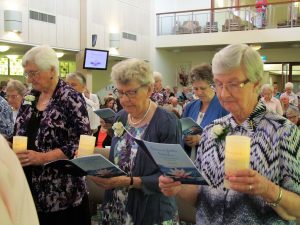 I have just come to realise the diversity of my journey, teaching in large city schools, and some country schools. There was sadness when we withdrew from a school and area where we had worked for over a hundred years. Mary MacKillop's canonization demanded involvement. I've supported families in time of loss in large city hospitals. Being a silent companion to the dying reminded me of Milton's words "they also serve who only stand and wait."
My journey over these last 60 years has been richly blessed. Overall I have enjoyed good health, happy communities and interesting and varied work, the majority of my time was in the country, a great love. My God is one of overwhelming love, and faithfulness, and I am most grateful.
My journey was from Ireland to Australia, now my beloved second home. We have been called Brides of Abundance, and that has summed up my whole experience. To stand at the reception desk at Baulkham Hills was to be flooded with emotion, expressed in tears of joy and gratitude. We left home young vibrant women full of dreams, we return now, still full of dreams and now more aware each moment of the mystery and wonder of our Godin the lives of each of us.
My pilgrimage over 60 years has been a journey in a spiral both outward and inward that has been enriching, challenging and often surprising. Inwardly there has been a deepening call to prayer, reflection and spirituality-an experience of fathoming the mystery of God and the Universe.

Clear water bubbling forth amid green mosses
Flowing, growing ever widening nourishing and refreshing
Then a sluggish drought-ravaged trickle
Becomes a turbulent eddying, debris laden
Slowly deepening in calm serenity, reflecting the sky.
Sr Patricia Stevenson rsj
Diamond Jubilarian
Please find below, videos from the 2019 Golden Jubilee Eucharistic Celebration:
Entrance Procession
Renewal of Vows
Recession