March 18, 2010
In the run-up to Social Justice Sunday, on 30 September, the Australian Catholic Social Justice Council has issued a new paper in its Social Justice Series, a book re-examining and focusing on St Mary of the Cross MacKillop.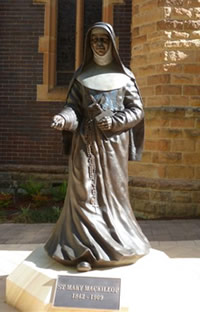 It is entitled Charity and Justice: St Mary MacKillop and Australian Society.
The paper's principal theme is St Mary's unswerving vision: that a commitment to justice must go hand in hand with a commitment to hard practical work on behalf of people on the margins of society.
The point of view of the author, emeritus Professor of Politics and Political Science John Warhurst, is that her life and work are an inspiration for Australians of all backgrounds – not just Catholics.
The book flows from various presentations of the saint's life, work and legacy made at a conference about St Mary, organised last year by Catholic Social Services Victoria, the Sisters of Saint Joseph, the Australian Catholic University and the Aboriginal Catholic Ministry.