February 7, 2011
14 September 1869
J.M.J.
Convent of St Joseph
My dear sorrowing Mamma,
I feel that you are sorrowing and that you have been so and that in your moments of bitterest grief even I by my strange silence have added the sharpest pangs to it. But surely our good God and His dear Immaculate yet sorrowful Mother comforted you as they alone could do.
Mamma, the heart of your child is the same now as you every knew it to be – it feels for your lonely sorrows, your severe trials, and your many cares, yes, even more now than formerly, for imagination, I trust magnifies them and makes them appear greater than they really are. Surely they cannot be as great as I in moments of anxious thought for you sometimes think they are. But great or small – my own Mamma, you have not now to learn how to bear them patiently and even lovingly, considering Who He is that sends them all to you.
Oh! but my heart years to comfort you, yet cannot do it. Go to our good and merciful God, Mamma, and in His every holy Will, which you always taught me to revere and love, you will find your only rest.
It is not the will of God that I should often write to you. Nothing but the certainty of this could ever keep me silent. Then won't you join me in humbly trying to submit to this ever blessed Will. So few give their wills entirely to God, but may we not try to be some of the few. You used to tell me to love the Will of God – and to submit to it in all things. Your words still often ring in my ears and I bless God that they were my Mother's words to me. Ah! do not let sorrow and care dishearten you now – rather let such be a means of bringing you closer to the Cross, nearer to Jesus and our Sorrowful Mother. In her great and bitter sorrows, and in the cruel wrongs of our merciful Saviour, won't you, don't you dearest mamma, find rest.
Soon perhaps our Blessed Lord will be satisfied with all that you have suffered for love of Him and He may wish to take you to your true and lasting rest with Him. Oh! what a sweetly happy day that will be for you if you will but suffer lovingly and patiently all that is first sent to prepare your soul for it. Have you not often told me that God loved the souls He tried most. Well then, my own Mamma, think of that still when your weight of sorrow and care seems more than you can bear.
Will you do one thing for me, if you have not already done it – join the confraternity of Mount Carmel, and become the true and devoted child of our Immaculate Mother. I enclose a scapular for you – worked by Sister Francis Xavier – Blanche Amsinck that was. This is the month of our Immaculate Mother's Dolorous Heart, her month of Sorrows. Won't you unite all your sorrows to hers and through her to the desires of the Sacred Heart of her Son? Ah, yes, my own Mamma, you will do more even. You will endeavour to meet them with at least cheerful resignation, that first and then love for them will follow.
I am but a poor consoler at best, and any effort to succeed in doing so seems vain when writing to you. May God Himself then comfort you and so draw your heart to Himself that you will always lean on Him alone, and prepare in earnest by the path of suffering which He leaves you in, for your eternal rest with Him.
Poor Papa had his time of humiliation and sorrow. So also had John, young as he was – but both are now happy with their God and longing I am sure for the time when you can join them. We must all try to get there. Oh! Mamma, try by every means to make my sisters and poor Peter think less of this miserable world and be more in earnest in their pursuit of the next.
I am sorry Donald is so careless about writing – indeed I am surprised he has not written to you, for I saw him about two months ago at Seven Hills, when he promised me faithfully that he would write and that regularly in future to you. He was to have done the same to myself from time to time. Of one thing I can sure you – he is a warm-hearted generous boy – though still too careless in many things – I mean only with regard to letter writing to yourself and Uncle Donald, for certainly he should not neglect that. He was aware of this fault and determined to repair it. In every other respect his conduct, his progress and the character given to me of him by the Father Superior, and other Fathers as well, was more than satisfactory. I could only silently try to thank the Infinite Goodness of God in making him what he was.
This letter is incomplete………………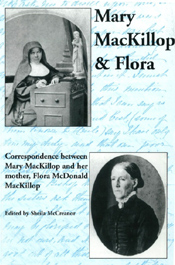 The letter provided is the tenth letter from a collection, edited by Sr Sheila McCreanor, of letters between Mary and her Mother Flora.
This book can be purchased at:
Mary MacKillop Place Museum Shop
7 Mount Street
North Sydney NSW 2060 Australia
PO Box 1081
North Sydney NSW 2059 Australia
Tel: +(61 2) 8912 4894
Fax: +(61 2) 8912 4835
Email: mmp.shop@sosj.org.au
Website: www.marymackillopplace.org.au