Date: 04/05/2019
In these Easter days you are invited to join us for a guided Emmaus Walk.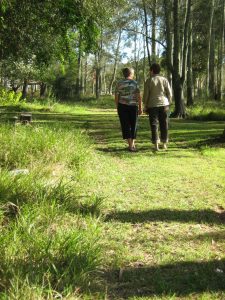 There is an ecological reconciliation practice called the Council of All Beings which invites us into a four-stage process of healing our relationships with Earth and all beings. It begins by grieving or mourning what has been lost and moves to a remembering of the relationships we once had. At some point in this remembering we recognise the hand of God in our lives. This calls forth from us a response.
Mourning… Remembering… Recognition… Response…
How well these words capture the Emmaus story!
In this reflection we will walk with the disciples holding a sense of what has been lost in our world, our relationships and our lives; and discovering the healing that lies in memory, recognition and response.
Saturday, 4 May, 9.30am – 12.30pm
Bethany Centre, Mary MacKillop Precinct, 4 High Street, Kensington SA (Sorry, street parking only)
Cost: Full $30.00 or Concession $20.00
Registration essential: by Monday, 29 April
Phone: 08 8130 5900 or email: infosa@sosj.org.au
Click here to view Mary MacKillop's Precinct's 2019 Programme
Visit the Mary MacKillop Precinct Website
Photo by Mary Ryan rsj. Used with permission.