Date: 04/05/2019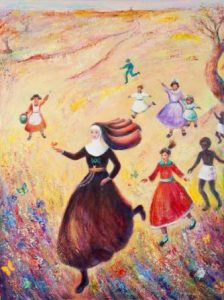 Mary MacKillop: '… a dazzling star in the firmament of feminism'  – with journalist Samela Harris, historian Denise Schumann and Mary Ryan rsj, Co-ordinator of Mary MacKillop Precinct Adelaide
Mary MacKillop was an extraordinary Australian who reached out to the poor and the disenfranchised in 19th century society. She believed in the dignity of all human beings regardless of gender, class or race and was prepared to challenge orthodox beliefs in the pursuit of social justice. Outlawed by the Catholic Church, she is now held up by the same Church as a model of courage and selflessness.
Don't miss this opportunity to muse over the legacy of Mary MacKillop in this forum.
Saturday, 4 May, 2.00pm – 4.00pm
Venue:  St Peters Town Hall, 101 Payneham Rd, St Peters SA, Banquet Hall
Cost: Free
Registration essential – Contact: Cathy Condina 08 8366 4612/ email
Please note: this is a SA History Month event.
All welcome!
---
Painting:  ©Veronika Dimac – In Joy International –  Used with permission of the artist.