November 1, 2020
Josephite Sisters Among 2000 Young Women Missionaries from Callan, County Kilkenny.
In 1884 St Brigid's Missionary School was established by the Sisters of Mercy in Callan and existed until 1959. The aim of the secondary boarding school was to provide an opportunity for young girls to test their desire for religious life and prepare for their chosen vocation. The length of time spent at Callan depended on their age, education and abilities and other unexpected occurrences e.g. sea travel during war time.
2000 young women, mostly between the ages of 16 and 21 and some in their 30s and early 40s, graduated from St Brigid's and most became missionaries. Religious congregations in faraway lands approached St Brigid's, recruiting candidates for their missions and Bishops on home visits to Ireland also appealed to the students.
The young women decided where, and with whom, they would answer the missionary call. 'The greatest number of them travelled to Australia (169), followed by the United States of America (164), Ireland (140), South Africa (64), England (60), Canada (18), New Zealand (15), India (14), Holland (13), France (12), British Guiana (7), Argentina (7), Java (5), British Honduras (5), Belgium (4) and Burma (1)'.[1] They arrived in their host country well-educated and ready to embrace religious life in various religious orders. The larger numbers joined the Sisters of Mercy, Presentation Sisters, Dominicans, Holy Family, St John of God, Sisters of Charity of the Incarnate Word, Good Shepherd Sisters, Sisters of St Joseph, Franciscan Sisters, Ursuline Sisters, Our Lady of Charity and Bons Secours Sisters.[2]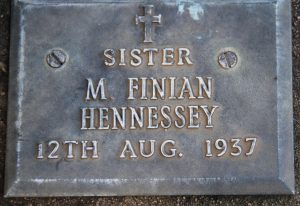 According to my research, the Australian Josephite connection with Callan, commenced on 10th January 1930, with graduate, 20-year-old Mary Hennessy, entering the Sisters of St Joseph in Bathurst NSW and becoming Sr Finian. She had delicate health and sadly died far away from home, on 12th August 1937, age 28.
The Tasmanian Josephite connection with Callan began in 1931 when Archbishop Hayden of Hobart returned to Kilkenny for a home visit. He canvassed in Irish parishes for volunteers for his diocese, resulting in ten Callan graduates joining the Tasmanian Sisters of St Joseph between 1933 and 1938. 4 came from Clare, 2 from Galway, 1 from Kilkenny, 1 from Limerick, 1 from Meath and 1 from Roscommon. They were between the ages of 16 and 20. The last two graduates for the Tasmanian Josephities, who arrived in 1947, were sisters Anne and Mary Healy from Kilkenny aged 17 and 18. Prior to the arrival of the Callan graduates, there were nine Irish Josephite sisters amongst the Tasmanian Josephities, 4 had entered in Tasmania and 5 had transferred from Bathurst.[3]
The Callan Josephities dedicated their lives to the Tasmanian people, and they appreciated the training they received at St Brigid's from the Sisters of Mercy. Sr Colman Fallon remarked in 1991, " Now that I have lived the life of a nun for 56 years I can say that the training received at St Brigid's was more intense and stricter than the novitiate training, it prepared us for emergencies!" [4]
Of course, all Callan graduates knew that Edmund Rice, the founder of the Christian Brothers, was born in 1762 in the little cottage down the road from St Brigid's.
Sr Clare Ahern
Sources:
[1] sistersofmercy.ie
[2] ibid
[3] Further Reading: For more on the Callan Josephities read pages 207- 211, The Letter Under the Pillow by Clare Ahern. For more on the Tasmanian Story read:  St Joseph's Island, Julian Tenison Woods and the Tasmanian Sisters of St Joseph by Josephine Margaret Brady.
[4] The Letter Under The Pillow by Clare Ahern page 208