February 8, 2018
As I reflect on the events of the past month, I feel that it has been a time of joy of movement and of many new surprising firsts.
It reminds me of how, when I've been travelling in a car, things have seemed to whizz by in an array of colours and lights… zoom…
As I prepared for my first profession on 13th January, I had a strong sense that I was on a journey that I did not take alone. Therefore the theme I chose for the Mass was "Joyful Communion":
I came that they may have life, and have it abundantly.
Jn 10:10
No one is greater than another, we are all loved by an endless love, we are all parts of one body in relationship. [1]
As relatives, friends and Sisters gathered on the day of my profession, my joy increased (as well as my nerves!). But what rang out most in my heart was an overwhelming sense of home, community and joy…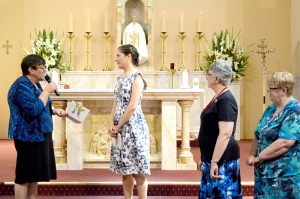 It was a real community celebration where so many of my Sisters were involved in setting up the sacred space display, printing the booklets, organising the Mass itself by arranging for musicians, welcomers, cold water for visitors (because seemingly, God turned on the heat and humidity along with the joy!), to our priest (Fr. Brendan), the Congregational Leadership Team (CLT) and all who came to take part in the celebration.
It was a day when we all remembered that we are parts of the one body and we are all nourished by the love that Christ gives us. [2] I am absolutely filled with gratitude for all who helped with that day and for all who have journeyed with me over the years. Thank you and may we have many more adventures to come.
It is a Josephite tradition that Sisters can choose a special name, which they use as as part of their vow formula. I chose '…of Joyful Solidarity'. because as I continue to listen and journey, I admit my madness and my magnificence.
Promising to walk sharing Joy:
Joy that comes from surrender to God.
Joy that deepens when shared.
Joy not in things and stuff, but it is in us, in our body of Christ.
And walking in Solidarity:
Being with as Jesus lived.
Listening with as Jesus listened.
Walking with as Jesus walked.
As Mary MacKillop lovingly showed us with her life;
"Remember, WE are but travellers here." [3]
And now, as I venture out into my first community as a Sister of St Joseph and my first full time ministry in a High School, I walk in joy and solidarity knowing with full heart that I am not walking alone. The peace and gratitude that flow from my heart remind me that I walk as part of a whole, walking the path that gives me life, and I thank our God.
And I ask you as I did on 13th January; please don't pray for me, but please pray with me. And I promise you that in joy, solidarity and prayer I am always with you as part of this body too.
Dear God
I am finite candle
You hold the infinite match
With you I shine
Let us shine
Let us shine
Let us shine
Alleluia. Amen.
(Prayer written for First Profession)
Jane Maisey rsj
Profession booklet: http://www.designjane.com/first-profession-artwork.html
Photos courtesy of Niesha Allport rsj
References
[1] Cor 12:12-27
[2] Matt 15: 32-39.
[3] Mary MacKillop to her mother, 27 November 1866