March 18, 2016
Forgiveness of those who hurt her "Let us show this love in our acts, bearing one another forgiving and forgetting." Mary MacKillop 1890
It is in her willingness to forgive those who hurt her that Mary MacKillop's holiness shines. LikeJesus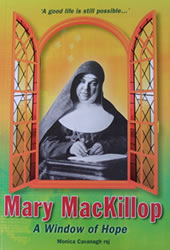 hanging on the Cross, she was able to come to that place where she too can say 'Father forgive them they do not know what they are doing'. (Luke 23: 34) This was reflected in her forgiveness of the priest responsible for the events leading up to her excommunication, of Mr Cusack the headmaster who inflicted a grave injustice upon her in Portland, and of the Bishops who mistreated her and judged her for her consistent belief in the Rule approved by Rome.
In 1890, Mary wrote to some of the Sisters who had spoken untruths about her at the time of the Commission of Enquiry in 1883: "I excuse and with all a mother's heart I forgive you. And as I freely forgive and wish to forget, so do I entreat you my dearly loved ones, to forgive from your heart any Sister who has pained you".
About the priest who had been the main cause of her excommunication she wrote in 1871,
"I forgive him. I forgive all who had any part in these matters."
____________________________________________________________________________________________
It is so easy for people to hold grudges and to refuse to forgive those who have hurt them. May Mary MacKillop's life inspire us to develop an attitude of forgiveness as we let go of past hurts..
_____________________________________________________________________________________________
© Mary MacKillop—A Window of Hope: Monica Cavanagh rsj, 2010, pages 46—47
Used with permission of the author and publisher: Wilkinson Publishing Pty Ltd, Melbourne
'Mary MacKillop embodied all that is best in your nation and in its people:
genuine openness to others, hospitality to strangers, generosity to the needy,
justice to those unfairly treated, perseverance in the face of adversity,
kindness and support to the suffering. Think of Mother Mary MacKillop and learn from her
to be a gift of love and compassion for one another, for all Australians'
Pope John Paul 11