The Congregation of the Sisters of Saint Joseph of the Sacred Heart is a faith community of women, passionate about God's Mission and engaged with the challenges of our reality as they answer the call to mission in our times.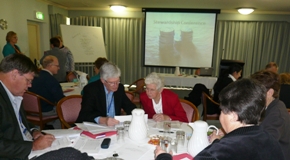 From the time of their foundation, its members have lived among the people, sharing their daily lives and responding to the needs of the day, often in places of violence, fear and insecurity, or places of incompleteness and limitation in ourselves.
They conduct their work through four main areas:
incorporated ministries
church organisations
government and/or not for profit organisations, and
individual projects.
This Congregation has always had a centralised structure, known as Central Government, so that the Sisters have always been able to travel, regardless of geographical borders, to wherever there are needs and there is no one else available to help. This Central Government is at the core of the Congregation and is expressed through a collaborative style of leadership.
The Sisters have incorporated the Congregation under NSW legislation and a number of their apostolic works and these are known as incorporated ministries or works, and cover the areas of aged care, health care, education, and family care.
Across the Congregation, many people support these works by membership of Boards, or through employment in the works for which the Boards are responsible for on behalf of the Congregation
Board members are very committed people who willingly volunteer their time and skills.  These people are immersed in the Josephite charism and make a significant contribution to the ongoing work that Mary MacKillop and Julian Tension Woods began more than 150 years ago.
For information about requirements to be a director on a board, Email Sr Louise Reeves
Page last updated May 2016