March 25, 2010
In the last month Sister Cathy Dean and Sr Dora Garcia have moved into a new ministry area on the outskirts of Lima. Cathy tells us about this move into being in solidarity with the people in Jicamarca.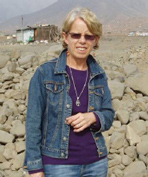 I have moved to a new place of ministry in Lima, Peru and I have been joined by Dora who has just been missioned by Sr Anne Derwin to the Peru Region of the Congregation.
We have joined the community situated in Motupe, living with Sisters Margaret Malady and Clare Conaglen. The parish is enormous and consists of 3 distinct parts, Motupe, Montenegro and Jicamarca. Each section has a main church and many small chapels.
Cathy at Jicamarca
We minister alongside two Columban Fathers Padre Liam and Napa.
Jicamarca is one part that has grown rapidly in a very short time. The people who are moving to this area, arrive, buy land often from corrupt business men who don't own the land while others arrive overnight invading the land and setting themselves up with straw matting and calling it a home. The invasions and the struggle with the land have led to many acts of injustice and lately 8 deaths.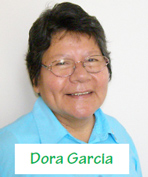 There are many small communities and about 14 have chapels these are also used as comedores (kitchens, cooking for undernourished children) during the week. On one side of the Valley there are 2 religious communities; two Irish sisters work in the Chapel of Holy Family and a Mexican congregation teach in the Chapel of Our Lady of Guatalupe. On the other side of the Valley, there are no religious sisters but there are many committed lay people working in each of the chapels. The focus is pointing towards this part of Jicamarca and for me to accompany the different communities. So therefore my role is beginning to emerge as an accompanier of the different groups already established in the areas of liturgy preparation, youth, sacraments, and into the future…one needs to be a listener and an enabler.
As I begin to accompany the people of Jicamarca, the 'cry of these poor' is a cry for justice with land, for the church to be in solidarity with them and their struggle and to have someone to accompany their journey. "The cry of the poor" is also the cry that I hear within myself about my own inabilities, struggles and fears with differences, with language, and with culture and still have empathy for them and willing to be among them. I don't like touching into the cry of the poor in myself or in the other and yet this is the very place that I want to be called or sent from into the future. So I suppose I am saying I am open and available to be called or sent wherever the need presents itself.
Messages to: Cathy Dean rsj