April 1, 2010
After working for the past eight years in the Province Office and in the Archives, I am finally off to Peru. I say "finally" because it has been a dream of mine since I was a girl in high school that I would work in the missions.
However, following my profession as a Sister of St Joseph, God's plan took me, for many years, to a succession of schools, each of which was a wonderful experience and has left me with many happy memories. But now the time has come and the opportunity is here for me to realise my dream to go overseas and to join our Sisters who are already there and work with the people of Peru.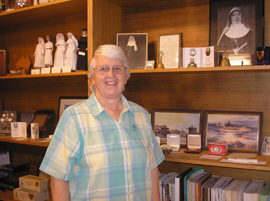 On the 2nd May I will be farewelled from my Province and will leave for Sydney the following day. The next Saturday I will be missioned at Mary MacKillop's tomb. Departure date is 12th May and, after a long flight, I know I will be welcomed by the Sisters in Lima and this new chapter in my life will begin.
I am conscious of the love and support of many people – the Sisters, family and friends – as I have prepared in earnest for this step over the past 12 months and am most grateful to each of them.
Sr Katrina Van Ruth