January 15, 2010
Sr Agnes O'Brien of the NSW Province celebrates her 100th Birthday on 18th October.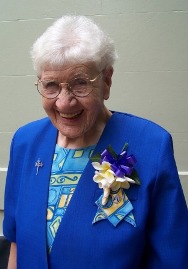 She celebrated her birthday in great style on Sunday 11 October at St Joseph's Hostel Hunters Hill. 18th October is the actual date; the celebration was brought forward to accommodate family members. Sister Agnes (formerly Sr Brian) enjoyed the celebration Mass, and family took part wherever possible.
The party that followed was highlighted by congratulatory messages from Pope Benedict XVI, Queen Elizabeth II and several ranks of Australian dignitaries, not forgetting tributes, often hilarious, from different relatives.
Looking quite regal in royal blue, Sr Agnes reigned at the head of the table in serenity and joy, concluding the jollifications with sincere and gentle thanks to all who had played a part in her once-in-a-lifetime day.
Congratulations Agnes – a wonderful achievement!