February 16, 2010
Late last year Bishop Greg O'Kelly SJ invited all Religious and the Leaders of each of the five Congregations to meet in Pt Pirie. This event took place in February in the Centacare conference room.
The participants gathered for morning tea and then engaged in prayer before beginning the formal meeting. The leaders of the the Missionary Sisters of Service, Sisters of Our Lady of the Sacred Heart, Good Samaritan Sisters, Sisters of Mercy and the Sisters of Saint Joseph introduced themselves and spoke about the meaning and history of their varying symbols that the Sisters wear. Following that, each Sister present described the ministry in which they are engaged. This was to get a sense of the 'quilt' that is being woven by the Religious across the diocese. The bishop then led a process that looked at the strengths and weaknesses around each area as well as asking the question: 'what could the Diocese better do to support each Member?'
The issue of the ongoing need for Formation of all laity and the need for spiritual direction around the Diocese was raised.
One of the informal highlights was the great social interaction and that was helped by the generous provision of morning and afternoon tea by the Parishioners of Pt Pirie and the staff of Centacare!! We also acknowledge the generous provision of lunch by the Diocese.
Fr Arthur Hackett was present, as he was the first priest to welcome Sisters into a Parish in which he was the Parish Priest. Fr Paul Quirke was there too, as Vicar General.
Kerry Keenan, as the newly appointed Vicar for religious in the Diocese, was instrumental in organizing the gathering and coordinating the prayer and Eucharist preparation.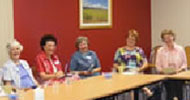 Pictured among all present the following Sisters of Saint Joseph are pictured:
Sisters Marion Gambin ( Province Leader) Joan Barry, Veronica Slattery, Moreen Featherstone, Catherine Mead, Julianne Murphy, Kerry Keenan, Josie Huppatz and Angela Mahar. Sr Kenise Neill was an apology for the meeting.