August 7, 2018
A Place to Call Home: Making a home for Everyone in Our Land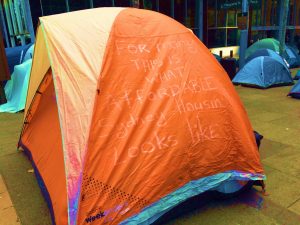 This week we are reminded starkly of the acceleration of homelessness and the lack of affordable housing across our nation. The work of groups such as Vinnies and the Sydney Alliance, reinforced by media attention, are calling us to new awareness and action. This year, the Catholic Bishop's Social Justice Statement is titled "A Place to Call Home: Making a Home for Everyone in Our Land". It is a response to the growing problem of homelessness in Australia and a challenge to each of us to confront Australia's growing rate of homelessness and unaffordable housing.
The Statement confronts the growing challenge of homelessness and housing insecurity in Australia, where, according to the latest census figures, there are some 116,000 homeless people in Australia. The statement examines the extent and causes of Australia's homelessness and housing crisis. It emphasises that secure housing is a human right and an uncontestable public good, affirmed by both Catholic teaching and the Declaration of Human Rights. It issues a challenge to government, to Church and community and to us as individuals to bring about change and reform.
The Statement will be launched in September and will be available on the Australian Catholic Social Justice Council (ACSJC) website. Also included on the website are Social Justice Sunday Liturgy Notes, a PowerPoint presentation and resources for schools and social justice groups.
Prayer Cards and 'Ten Steps' leaflets can be ordered from the ACSJC on (02) 8306 3499 or by email: admin@acsjc.org.au
Therese McGarry rsj
Visit the 'Homelessness Australia' Website
Image provided by Therese McGarry rsj. Used with permission.