May 9, 2018
At JJAMM we undertake an activity to get the school leaders to drill down and try to get to the heart of who we are, what we stand for and how we are connected as a Josephite community.
It's an effective activity to lead into future activities that ask the students to name what Mary MacKillop would be working to change if she were alive today.
After spending time in the museum at Mary MacKillop Place and studying how their works and actions in their schools mirror the work of Mary MacKillop, this is what the leaders came up with for 2018.
Read on and see if you agree…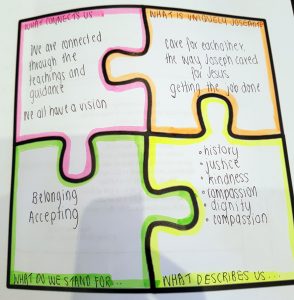 What connects us?
Our strong sense of community connects our students
We are connected through the teachings and guidance
Community spirit
Social justice
Sense of belonging
We strive as a community to accept all diverse cultures through actively living out our faith
What is uniquely Josephite?
Our school spirit exhibited in our sense of community allows us to effectively interact with the wider community to turn compassion into action
Care for each other the way Joseph cared for Jesus
Getting the job done
Social justice
Doing as much as you can with what you have
Resilience
Living out the legacy of Mary MacKillop by following in her footsteps and continuing her story through action
Compassion
Willingness to serve
Determination
Looking out for others
What do we stand for?
Promoting a sense of community pride and belonging through our house systems which promote the values and spirit of MM
Belonging and accepting
Compassion
Acceptance
Action
Kindness
Developing a bond between student and the wider community
To be an inspiration to others
Aim high
Work hard for justice and peace
Speaking with those without voices
What describes us?
Compassion
Spirited
Determined
Enthusiastic
Inclusive
History
Justice
Kindness
Dignity
Resilience
Courageous
Action driven
Diversity
Community
Legacy
Faith
Welcoming
Accepting
Service
Respect
Karen Oxley
Josephite Justice Office