March 7, 2019
Provided below, is a reflection on the recent JJAMM (Joseph Julian and Mary MacKillop) 2019 school leadership gathering by students at MacKillop Catholic College, Warnervale NSW…
---
JJAMM was an experience of a lifetime, we were encouraged to step out of our comfort zones, where we found ourselves stepping into an environment full of passionate, Josephite leaders, bringing forward similar ideas and sharing similar visions. Being able to spend five days with such inspiring school leaders is an enormous privilege, learning from each other and building on our leadership skills in many structured activities and challenges. This enabled us to assist in exploring the gifts and challenges that come with being a leader.
Upon returning from JJAMM, we are looking forward to introduce the new ideas and opportunities that we have taken from our time away, and hope that it will enhance the Josephite spirit within our school community. Learning from the teachings of Joseph, Julian and Mary MacKillop and implementing them into our plans for the upcoming year.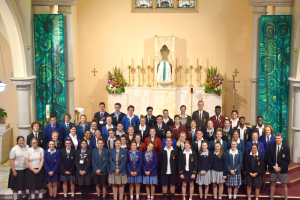 Being part of such a passionate group of leaders, gave us an insight into all our school communities. All sharing a main focus in creating initiatives towards different problem areas in regards to social justice issues, ranging from Asylum Seekers and Refugees, Care for the Environment, and Caring for the Homeless. As our aim is to find solutions to these actions and causes, to assist those who need it, within our own communities and beyond the gates of our school.
We felt extremely proud to share with the leaders of other Josephite schools, Sr Jan, and her team, our school values, initiatives and programs that are built on the very foundations of the Josephite spirit. We received a positive response regarding our school's JUMP initiative and towards our efforts in improving housing affordability within our local area. Many shared our vision and are showing their support by attending a rally with their school on 14 March in Sydney that recognises the issue of homelessness. They also made a commitment to our goals by signing our pledge; requesting that NSW politicians ensure a new supply of affordable housing areas will be assigned in new estates (minimum 15%).
We cannot express enough our gratitude towards the Sisters of Saint Joseph who created this opportunity for school captains within Josephite schools, our school for providing us with the opportunity to attend JJAMM and to Mrs Baxter for travelling this journey with us. This incredible experience has strengthened our leadership and allowed us to collaborate on new ways in which we can further appreciate and contribute to the Josephite Charism that exists at MacKillop Catholic College.
As students of a Josephite school we must uphold our Josephite hearts and empower others to make a difference in the lives of our neighbours in our school, local and broader community. We strive to continue the mission of Mary MacKillop and Julian Tenison Woods by responding to our call for action and helping alleviate the needs of those suffering injustices. Ultimately, JJAMM has taught us both, that in order to be effective Josephite leaders we must utilise our ambition, skills and resources to not solely be individuals with a dream, but be the agents of change.
Lucy and Jack
School Captains
MacKillop Catholic College, Warnervale
View photos in the gallery below on the 2019 JJAMM school leadership gathering: