October 7, 2018
On 7 October, the Sisters of Saint Joseph celebrate the anniversary of the death of Julian Tenison Woods their Father Founder.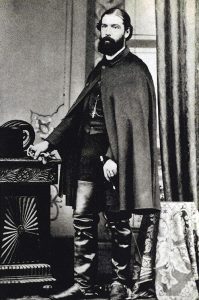 Father Julian met Mary MacKillop in the town of Penola where Mary was a governess for her Uncle Sandy Cameron's children and Julian was the parish priest. Together they brought to birth the Sisters of Saint Joseph for the pious education of the children of the poor. [1]
Father Julian was a devoted priest with a brilliant mind and a passionate love of the natural world.  He had the wonderful gift of holding both his theological background and his scientific knowledge in balance.  Nature provided a space for him to be drawn into the divine mystery.  As he traversed this country and beyond he wrote of his experiences leading to deep reflections on the beauty of God.  He wrote:
Nothing is too wonderful for me to believe about God, the richness of whose creative power was a constant subject of love and admiration.
Like Jesus, Julian invites us to encounter God through God's presence in creation. Julian sees the interconnectedness of all of creation. As Pope Francis writes:
Everything is related, and we human beings are united as brothers and sisters on a wonderful pilgrimage, woven together by the love God has for each of his creatures and which also unites us in fond affection with brother sun, sister moon, brother river and mother earth.
During the month of September and until 4 October, people around the world have been engaging in the Season of Creation. The Season of Creation is an annual celebration of prayer and action to protect creation. It is celebrated by Christians of all traditions, and the leaders of these faith traditions have encouraged the faithful to participate. Father Julian is one person whose writings can assist us to see the cosmos in new ways and to understand more fully the richness of eco-spirituality. His insights invite us to contemplate the Creator who is within us and around us:
Every rock, every leaf, every insect has something beautiful, nay, wonderful to tell.
As we celebrate this special day in the life of Father Julian Tenison Woods, let us give thanks for his gift to the Sisters of Saint Joseph, the church and to the wider community. May his life inspire us to live the challenges presented to us in Laudato Si as people work to address situations which threaten our fragile planet.
Sr Monica Cavanagh
Congregational Leader
[1] Julian Woods, Rules of the Institute of St Joseph for the Catholic Education of Poor Children, Article.1, written  in Adelaide in May, 1867.