February 14, 2018
Sisters and friends celebrate with Sr Betty Keane…
The day began brightly, with 30 degrees and a welcome breeze.  Everyone in South Perth was busy one way or another.  Furniture was set in place, and tables set for the afternoon Garden Party.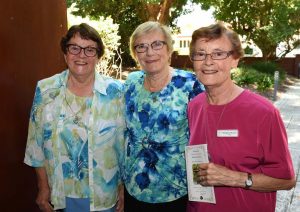 Special thanks to Sr Kathleen Hitchcock and Sr Mary McNamara for their organisation before, during and after the event, and to the sisters who gave their time so generously. It has happened endless times before, and is done when 'no one is looking'.
The Chapel was especially beautiful, with floral decorations by Sr Marie Moriarty and Sr Tuyet Pham.
Bishop Emeritus Justin Bianchini was the main celebrant, with Fr Zyggy Wloczek (parish priest of Newman and Tom Price) and Fr Brian Ahearn concelebrating with him.
Sr Alma Cabassi gave the welcome to country, respectfully acknowledging the Noongar people of the Perth area.
In her welcome, Sr Margaret Cleary, Regional Leader, dwelt on some highlights of Betty's life as a Josephite which were spent mostly in the outback areas of NSW, and in the Kimberley and Pilbara regions of WA since 1985.
In his homily, Bishop Justin spoke with gratitude and appreciation of Betty's ministry of pastoral work in the Newman parish. As Bishop of Geraldton, he had been closely associated with her in this ministry over 16 years, and so had shared the highs and lows with a Good Shepherd's heart.
Sr Lyn Sparling's accompaniment on the organ and Sr Francis Maguire's leading us solo in the psalm delighted all our hearts.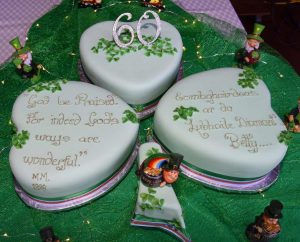 After Communion, three students from La Salle Midland, Charlotte, Melissa and Olivia, did an inspiring dance movement to Shaun Davy's 'The Deer's Cry'.
The Gaelic touches continued on in the Garden Party, with four Irish women dancers giving an impressive exhibition of the best of Irish dancing.
No one missed the Irishness of the Jubilee cake. Thank you Sr Margaret Culhane; may your gifts continue to flourish, and enrich many other special occasions.
And now a few reflective thoughts on a time of jubilee…
It's a time when we celebrate God's faithfulness over the years, the times when life was glorious and magnificent, as well the dark spaces when we felt God was a long way off.
On reflection, we notice, in the words of John O' Donohue, all the holy places that have been God's touch, where in the Eucharist of the ordinary, our broken fragments were transformed into an eternal continuity that keeps us faithful as God is faithful.
And we tend to look to the future, as we bring to mind the friends who walked with us, some of whom are now in the Beatific Union with a loving God. We thank God for moments of divine awakening and promise ourselves that we will be more alert, more contemplative, more loving, more sensitive to God's presence and care in the unfolding mystery of the universe.
In his poem 'The Bright Field', RS Thomas invites us to be alert to divine revelations
Life is not hurrying
Onto a receding future
It is the turning
Aside like Moses to the miracle
Of the lit bush, to a brightness
That seemed as transitory as (our) youth
Once, but is the eternity that awaits (us)
Margaret Keane rsj