May 16, 2018
Elaine Wainwright shows how Deuteronomy 4:32-34, 39-40 challenges us to radical conversion so that we may keep Earth as our home.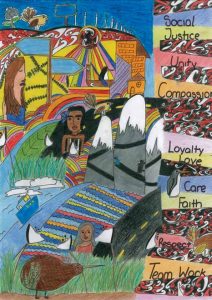 My aim each month is to offer an ecological interpretation of an Old Testament reading that we will hear on one Sunday during the month. I discovered that the first Lectionary reading on each of the Sundays in May this year are taken from the New Testament book Acts of the Apostles, right up to the last Sunday of May when the Church celebrates Trinity Sunday. The first reading for that feast is taken from the Book of Deuteronomy and it draws us into the world view that the Deuteronomist (the authorial voice) proposes: being faithful to God's commandments leads to life, and infidelity to those commandments leads to death.
Continue reading the article below…
Elaine Wainwright RSM is a biblical scholar and the Executive Director of Mission and Ministry for the Mercy Sisters in Australia and Papua New Guinea.