July 26, 2018
Dewy Sacayan shares how the experiences and friends she made at World Youth Day (WYD) enrich and encourage her faith in everyday life.
Going to World Youth Day has become a rite of passage for many young Catholics. It is a way of finding out more about our spirituality through meeting our peers from all over the world, discerning vocations and celebrating the mysteries with the Pope.
WYD with Family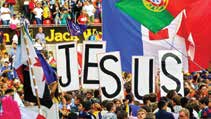 To a certain extent, it has become a family tradition for me and my siblings to attend World Youth Day. Our first WYD was in Rio de Janeiro, Brazil. We went as pilgrims with other Aucklanders. Our quaint group of 17 allowed us to travel in one bus, and to be as flexible as possible about where we would camp the night or which festival people we would like to go to. More importantly, our little group meant that local Brazilians in Guaratingueta were able to shower us with love through opening their homes, dancing and feeding us good food!
Our second WYD was in Krakow, Poland. My twin sister and I went as volunteers. I was a field journalist for the international content team while Dawn, my twin sister, was based at the airport where she was in charge of welcoming bishops and pilgrims. World Youth Day Krakow was an exhilarating experience as we were literally surrounded with inspirational saints and history. As volunteers, we were able to visit different solemn monasteries and beautiful churches whenever we wanted and needed to pray. My favourite experience was celebrating Mass and Reconciliation at the Divine Mercy centre. Practising the sacrament of Reconciliation made it even more special since it was 2016, the Year of Mercy, and we were at the heart of mercy.
These two experiences allowed us to gain new perspectives on our faith but, most importantly, we made new friends who have helped us to grow spiritually.
In terms of spiritual growth, WYD gave me three main lessons which I will have for the rest of my life…
Continue reading 'Lessons from World Youth Day' [1] (PDF)
Dewy Sacayan
Dewy Sacayan is an avid volunteer for the Church especially in youth leadership, a climate change activist and a newly-admitted lawyer in Auckland.
[1] Tui Motu Issue 227, June 2018. Used with permission.