February 16, 2010
A new resource for families has been developed to enable them to pray together in the midst of day to day activities that make up the year. It is called: Let's Pray Together: Prayer Resources for Seasons, Feasts and Celebrations.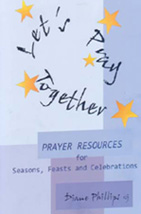 Di Phillips rsj wrote the resource in response to the needs of people in isolated rural places. Parents whose children study by Distance Education often have few opportunities for Catholic Religious Education. Di wrote this resource so that families can keep in touch with events in the Church year, celebrate significant feasts of Mary and some saints, including Mary MacKillop when they have little opportunity to celebrate Eucharist in a parish community. Other days significant to Australian culture are also there such as Australia Day, NAIDOC and Sorry Days, Wattle Day, Mothers' and Fathers' days and several others with prayers and rituals that suit the Australian character.
While Let's Pray Together was written for families it has been used effectively by small groups and teachers for school assemblies and classroom prayer.
The illustrations are in colour and are creatively done in circle patterns in the mandala style. Prayers include, Blessings, Grace before Meals and traditional prayers such as the Lord's Prayer and Hail Mary. Instructions are offered to set up a Sacred Space for each prayer session and symbols are suggested from the home environment. Some sample prayer include:
A Blessing for Wattle Day
May the blooming of the wattle bring joy to our hearts.
May the strength of wattle be ours.
May the colour of wattle be like sunshine after the cold.
May we be blessed by the green and gold all the days of our lives.
May God continue to bless us with wattle.
Grace before Meals on Mary MacKillop's Feast Day
God, on this day we remember Mary MacKillop, who on a few occasions gave her own lunch away when there was someone else in need of food. Sometimes she cooked a meal for the Sisters in her community. As we look forward to sharing this meal together we ask your blessing on us. May we, like Mary, be ever ready to help others in need. Amen.
Di Phillips is a Josephite Sister whose special interest is in families living in isolated and rural places. Her ministry of Religious Education belongs to MacKillop Community Services Qld Ltd a company that embraces ministries of Sisters of Saint Joseph in Queensland.
This new Australian resource will help meet the needs of many people, not just those in rural parts. With the resources for significant liturgical feast days and Australian cultural days it should fill many needs. At twelve dollars ($12) plus postage this is an affordable resource for all Australians. It can be obtained from:
Religious Education Ministry
PO Box 405
Pittsworth Qld 4356
Ph/fax: 07 4695 5362
Email: diane.phillips@sosj.org.au