September 3, 2019
Inspirational Woman: Dr Robyn Miller, Chief Executive Office of MacKillop Family Services.
Dr Robyn Miller has devoted her career not only to caring for vulnerable families and children, but also helping change the system to allow for early intervention which supports families who are struggling and helps prevent and treat trauma that can lead to break-down.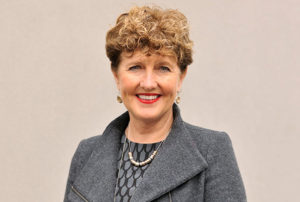 Robyn is the Chief Executive Officer of MacKillop Family Services, which provides specialist services to vulnerable and disadvantaged children, young people and their families in Victoria, New South Wales and Western Australia. MacKillop also provides training nationally on trauma-informed practice and education.
She has 30 years' experience in community services, local government and child protection sectors, and has practised in both the public and private sectors as a therapist, clinical supervisor, consultant and lecturer.
From 2006-15 Robyn provided professional leadership as the Chief Practitioner within the Department of Human Services in Victoria, was a member of the Victorian Child Death Review Committee for 10 years and worked as a consultant with the Royal Commission into Institutional Responses to Child Sexual Abuse. She is a board  member of Catholic Professional Standards Ltd and Catholic Social Services Australia, and was the recipient of the inaugural Robin Clark PhD Scholarship in Victoria.
Robyn, who was born and raised in West Preston in Melbourne and educated by the Good Samaritan Sisters, says she always had a strong interest in social justice.
I think that was instilled by my family and faith, but also by the Good Sams at Santa Maria College, Northcote. They were great educators and there was a strong focus on social justice running through everything we did there.
Robyn says she was always interested in youth work and after school she completed a four year degree in Psychology and Social Work.
The degree was great, but I think I learnt as much from the volunteer work I did during uni with the Brotherhood of St Laurence at the Fitzroy Flats (public housing high rise) and also with the Vinnies soup van. I loved that engagement with the people.
Robyn's passion for improving social support systems was partly sparked through her own family experience.
I'm one of six kids and my youngest sister has Down Syndrome. The doctors told my parents to place her in an institution and I remember having this fierce welling up of protectiveness – 'You're not taking my sister!' – and my parents reacted likewise. They were always going to love and care for her at home. She's 46 now and of course is much-loved. I think that was a formative experience for me in realising that the system could and should be better.
Continue reading the article here
Debra Vermeer
Author
Women Matter Newsletter a publication of the National Office for the Participation of Women